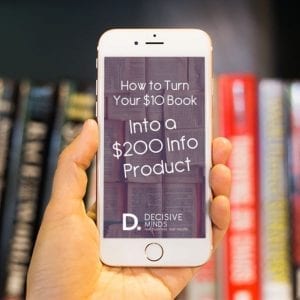 You've written your book or ebook. You have uploaded it to Kindle. Congratulations – you've done more than 90% of entrepreneurs do to establish your credibility as an expert. However, you soon realize that book sales aren't going to make you rich. What would it be like if you could discover how to turn your $10 book into a $200 product?
(If you haven't written your book yet – you need to get started now).
Here is the excellent news. Your book provides unique content. You can use that content to build a coaching program, to create blog posts for your website, to create webinars or speaking points or information products.
Real quick – just in case you are wondering, an information product is simply when information is gathered together in a format (video, visual, written, and/or audio) to teach someone something. Don't overthink this.
How To Turn Your $10 Book Into a $200 Product (without having to come up with any NEW content yourself)
"Michele – my brain is fried… I wrote my book and am fresh out of ideas!"
Ah…  post-book writer's block.  I get it.  And I can help you.  Here is my 5 step system applied to a couple of different niches.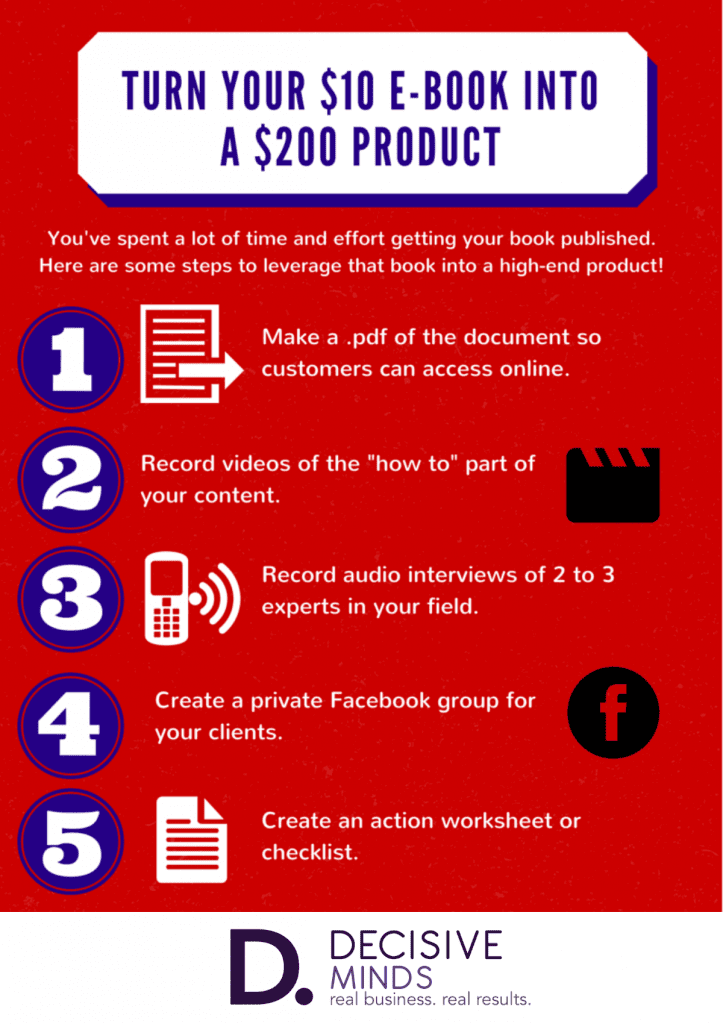 Applying the 5 Step System to a How-To Niche
1. Create a .pdf of your book. If you have already uploaded it to Kindle, you have this done already. For our example, let's say you wrote a book about gardening.
2. Create 3 Videos. Take three topics or processes from your book and outline them in short videos. For gardening, you might show people how to use some of your favorite gardening tools or teach them how to prepare the soil for planting, etc.
3. Interview a few fellow experts. You can do an audio interview or get on Zoom and interview 2 or 3 experts. Maybe you have one that knows about growing Roses and one that talks about organic planting. The great thing about getting experts to help is that they can then tell their audiences about your new product that they are a part of.
4. Private Facebook Group. Create a group exclusively for gardening enthusiasts.
5. Create a Checklist or Worksheet. Look for a process in your book that can be turned into a checklist, or maybe you create a worksheet about the best time to plant.
Applying the 5 Step System to a Coaching Niche
This is almost exactly the same process.  With a few small tweaks.
Your first step is going to be to create a .pdf copy of your book to include in your product.
The second step is to record three videos based on ideas that you talk about in your book.  So, for my book Take the Risks or Get a Job – I could do a video on how to create a product, how to increase your conversion rate, how to make money from fewer clients.
Next, call up a few fellow experts in your field and ask to interview them.  You should ask people who are just a bit ahead of you so you can ask them to promote the course when it is done
Make a private Facebook group for your students.
Create a checklist or worksheet to go along with a process you teach in the book.  My book includes 7 Entrepreneur Time Sucks, and 7 Entrepreneur Must Do's  – I can go ahead and use those.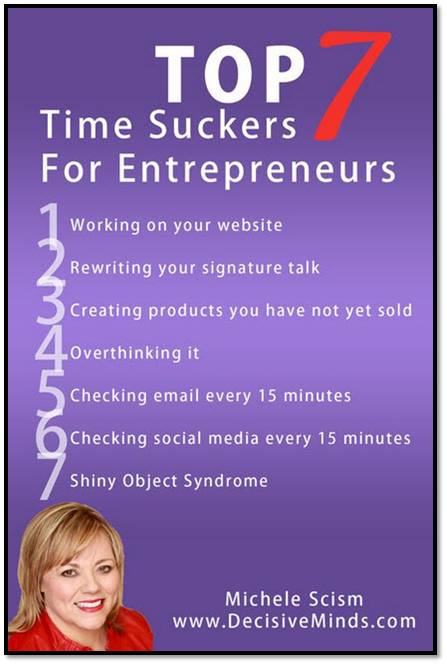 So, there go… Let me know when your product is done – post a link here 🙂
Want more?