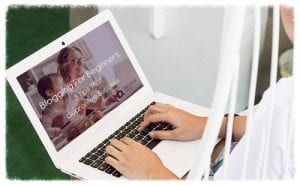 UPDATE 2019: When I originally wrote this post in 2014 there were big conversations going on about how guest blogging was no longer going to work as an SEO tool. Boy were they wrong. I decided to update this post so you could see what guest blogging is doing for online marketers and small business owners. Actually, would you like to see a great example of a guest post that is really working – check out this powerful guest post on our site Billboard Advertising: What Makes It Effective.
ORIGINAL POST: If you've been following along in the blogosphere for the past few days (Jan 2014), you'll probably see A LOT of posts about how guest blogging is dead as a method of getting more traffic to your site.  All of the hubbub started with this article "Stick a Fork in it: Guest Blogging is Dead" from google guru Matt Cutts about how guest blogging is dead.
Have you gotten an e-mail like this recently?
"Hi,
My name is (name withheld to protect the guilty).  I would like to write an article on your blog.  I am willing to send you a selection of articles for you to choose from.  All I ask is a link back to my site.   The topics I write on are:
* How to use cucumbers to permanently erase 10 years of fine lines off your face.
* What Dr. Oz things about quinoa.
* Using solar panels for fun and profit."
The person writing the letter obviously has not even read my blog and is just looking for links from my high-traffic site to their site.  The post, which would likely be written very poorly, would do nothing at all to build a relationship between this person and my audience.
It is THAT kind of guest blogging that Google wants to discourage.
So, how do you make guest blogging work?
1.  Be selective about whom you accept as a guest blogger. Make sure you review their topic beforehand. It must fit in with the quality and style of your existing posts. (UPDATE) Make a list of guest bloggers that you would love to showcase on your site. And that is exactly what I did and that is why I reached out to Daniel Wainwright about the billboard content. In the upcoming weeks, I have at least 10 more guest posts coming from local leaders in the Southwest Louisiana market. I am trying to attract new local clients so this will be a win-win for me and the guest bloggers. I will promote them on the blog and they will, in turn, promote my website to show off their posts.
2.  Make sure that you make it clear that you can edit the posts – Start by reading over the posts that are submitted for grammar mistakes and other errors.  Make sure the quality is high. (UPDATE) Be very clear early on that you are going to be looking at the content to make sure it is a perfect fit. Also, some of the people I wanted to guest blog for me do not consider themselves prolific writers. For those people, I gave them a list of questions and composed the blog post from those answers.
3.  Promote your guest bloggers.  Post their posts on Facebook, link from related posts in your blog. (UPDATE) As you know, I love a program called Coschedule. This is the program I use to blast my blog posts all over social media. Every blog post we put out is posted to social media a minimum of 25 times over 30 days. But here is what most people miss. You want to tag the guest blogger in your social media posts. Check out this post I created to promote Daniels post.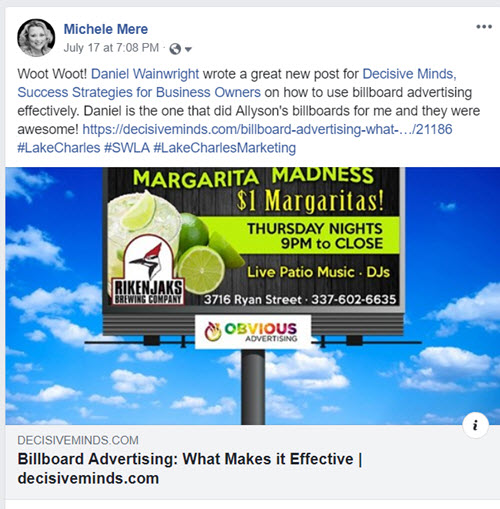 You can read more about how I use Coschedule here => Social Media Automation Tool – Coschedule
Blogging is a powerful tool. When you visit my site, you will see over 1000 blog posts in the last 10 years. You can tell that I am committed to entrepreneurs and if I am being totally honest – I don't want to write another 1000 blog posts over the next 10 years. I would much prefer to write some and let other brilliant business owners write some.
Are you looking for more blogging ideas?
Check out my newest planner "Decisive Blogging: The Simple Content Planner"
Related Posts: Looking for more? Check out these great posts that have been chosen for you.
10 Ways You are Killing Your Business With Email
How to Promote on Instagram for Small Business