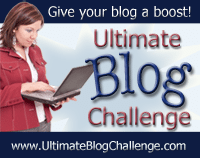 By Michele Scism
The Results Lady
Wow – the last post for the January 2011 Ultimate Blog Challenge.  It has been an exciting and trying month.  Before I forget I wanted to be sure to thank Michelle Shaeffer for being my co-host and for everything that she does behind the scenes for all of the bloggers who are participating.  She is amazing and if you aren't already following her – you need to!
This is the third Ultimate Blog Challenge and I have been so impressed with the 390 bloggers that participated.  I have enjoyed watching the twitter #blogboost stream constantly full of amazing blog posts and all of the posts on the Ultimate Blog Challenge group on Facebook.
So was it smooth sailing throughout the month – absolutely not.  There were several times when I had to do some real quick catching up. (Thank God for my 10 minute blog posts)  But over all my posts were spread out over the entire month and consistency is one of the main ingredients.
Defining Success
Again this blog challenge was a huge success in my eyes.
We had 390 bloggers participating in the challenge.  That is huge and just goes to show that bloggers are supportive and generous people who love what they do and love to connect with other bloggers.
My web traffic was amazing.  My "unique visitors" in the month of January grew by 64% over the month of December.  My "hits" grew by 59%.  My "number of visits" grew by 61%.  All those numbers are huge.
When I look at where the traffic came from – the top 5 are LinkedIn, Facebook, MichelleShaeffer.com, AdelaRubio.com and Twitter in that order.  Big thank you to Michelle and Adela.
I met many new amazing bloggers during the challenge.  Because of that I have scheduled 2 upcoming interviews and an offer to speak on stage at a live event later this summer.  That is  huge as well.
I hope that each and every one of you that also participated in the challenge will keep up the good work until we do it again.  It is only 3 months away.  We will be back on April 1st (yes I know what day that is) to do it all over again!