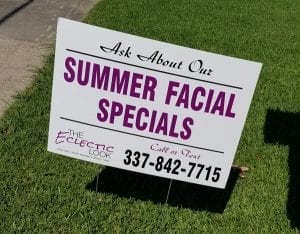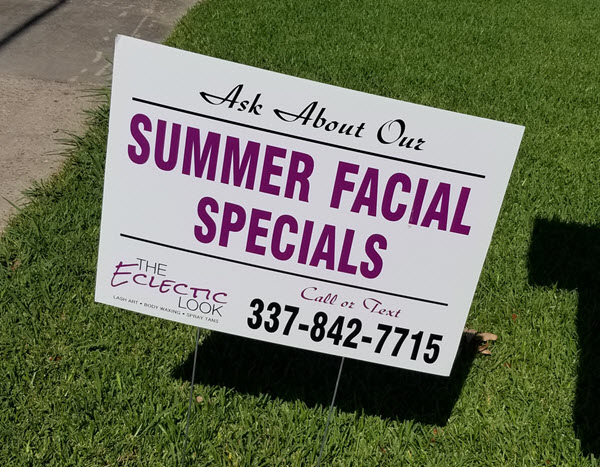 Today I thought we would talk about how to use banners and signs in your marketing. Recently, my daughter had some yard signs made to let people know that she is now offering facials as part of her business, The Eclectic Look, I decided to ask local Sulphur, Louisiana sign expert Jeremy Montz, from Lake Area Signs, to share with us the do's and don'ts of custom made signs. They did such a good job with her signs.
What are the most effective ways for local businesses to use printed banners and signs?
Printed banners work great for seasonal promotions, specials and any product that you need to really push on a temporary basis. Banners are somewhat temporary in life span, so keep this in mind when purchasing. Yard signs and intersection signs, the ones you see around town on the small wire frames, are also effective for short term advertising. You need to check your local city ordinances to see if they are allowed in your locale.  Usually, these signs are made out of corrugated plastic (sometimes known as Corex or Coroplast).
What makes a banner or sign an effective way to market a business?
The effectiveness of a sign is directly tied to one word – READABILITY.  You can have an amazing graphic design, but if your potential customer cannot read the content because of small letters or the busy design, then you have wasted your money.  Along the same lines, less is more! Refrain from using too much information on a sign as people generally will not take the time to stop and read it. ALWAYS include the business name, slogan (or specialized product listing) and a way to contact you (this might be phone, website, social addresses, etc).  If you have room to spare, you may consider adding more information. 
What are the best materials for banners and signs? 
There are many options for custom made sign material.  Intended use and life expectancy are at the top of the list when choosing your material.  Top sellers are Duraply (wood), Aluminum, PVC Plastic, Corex and Lexan to name a few. Also, be very aware that there are different life spans on the vinyl that is applied to the sign substrate.  In most instances, you get what you pay for.
What are the benefits of going to a local shop instead of an internet sign company?
A local shop can provide you with that personal service and attention to detail.  We do work with customers over email and phone, but when it comes right down to it there is nothing like looking at samples in person and shaking hands on a deal.  Also, if there is a problem with your order it is much more effective to be able to speak with someone in person or call us back out to the job site.
************************
Lake Area Signs was started in 1983 by Danny McKinney and was built on the lost art of hand-painting signs, billboards, and vehicle lettering. Over the years the business has evolved and today they are focused on the full-color solvent print market, including large format graphics, with the protection of a clear overlaminate. This has paved the way for them to do full-color designs on vehicles of all sizes, signs, banners, and multiple other types of signage. 
Jeremy Montz started as a part-time shop hand over 23 years ago and has worked his way up to the Manager position. Along the way, he worked in installation, fabrication, graphic design, large format digital printing, logistics, scheduling, purchasing, supervision, computers/equipment research, acquisition and more. You can find out more at https://LakeAreaSignCo.com. 

Related Posts: Looking for more? Check out these great posts that have been chosen for you.