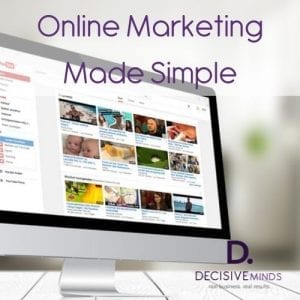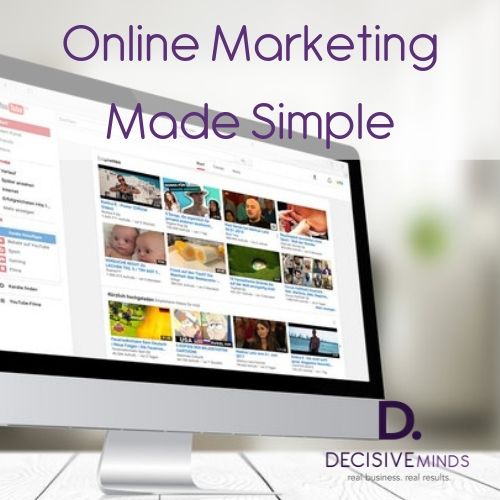 Ugh! There are certain words that bring terror to the minds of a small business owner. Online marketing definitely makes the top five of that list. Whether it is because you just don't know where to start or you have tried and it didn't work or it just seems so overwhelming, let's see if we can make it easier for you with our Online Marketing Made Easy tips.
Let me warn you – online marketing is what I call a long term game. Even Justin Bieber wasn't discovered on Youtube overnight. He posted lots of videos before he was discovered. Online marketing is not a one and done approach. It takes consistency and persistence and I am here to tell you that the payoff is well worth it.
Online Marketing Made Easy Tip #1
Focus on a certain topic, area of interest, or hobby! We call this niche marketing when you stay hyper-focused on one specific thing like online marketing, pets or golf. Traditional marketing used a "scattershot approach." How many ads do you see on TV every day for beer, car insurance or medicine that you would never ever wish to buy?
Niche marketing, on the other hand, is laser-focused. Through search engine marketing, you can attract exactly the right audience who will be most likely to buy your product and services. The two main ways to do this are Search Engine Optimization (SEO), which is free, and Pay Per Click (PPC) marketing through search engines like Google, and through social networks like Facebook. PPC does cost money but is far cheaper and a great deal more effective than TV or newspaper and magazine ads.
Online Marketing Made Easy Tip #2
Nothing happens online without content! In terms of your site or blog, it needs to be fresh and up-to-date in order to keep visitors coming back for more. The words on the page also attract search engines. To optimize your page, use keywords related to your niche. Not even sure how to use keywords – here is a video I created about Google Keyword Planner that will help.
Oh, and to keep yourself and your content organized you can create an editorial calendar. Each time you create a new piece of content, promote it via email and social media marketing.
Online Marketing Made Easy Tip #3
Email marketing is not dead – it does work and when you build a list of emails it is an asset! Once you build an email marketing list, it can keep on earning for you over and over again. A reliable email marketing platform like MailChimp or Constant Contact allows you to preload marketing messages into what is termed an autoresponder. As the name suggests, the emails will be sent out automatically to everyone who joins the list according to the schedule you set. This is a perfect way to develop a relationship with your target audience by showing what you know about your niche. It is also a great way to automate your marketing, to work smarter, not harder.
I know this can be a big one to bite off if you haven't done it before. This is one of the done-for-you services we offer. If you would like to talk about what that would look like for you just find a time on my calendar => Book Time With Michele
Online Marketing Made Easy Tip #4
Don't let social media overwhelm you. I built my whole business in the beginning on social media. This is also a great way to build relationships with your niche audience. It can also be an excellent method for growing your email marketing list or promoting your new content. Build your list by offering a free special report or another incentive so they will sign up for your email list.
There are hundreds of blogs on this site about social media. Be sure to check them out. Also, you might want to take a look at http://SocialMediaSuccessBundle.com it has everything you will need in it.