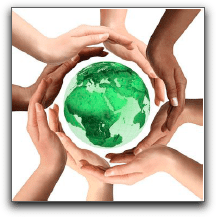 How would it feel to know that you have a group of people that want to promote you and your business to the world? They hang on your every word. They love your ideas, your products and services and can't wait to share you with their audience. Well those are just a few of the reasons to build a community.
One of my favorite discoveries about social media is that it opens up the whole world to become potential clients, that is an opportunity for me to help more people. It has also given me a platform to build a really nice leveraged business. There is no way (without a significant marketing budget) that I could have built this business to 6 figures in less than 2 years without it.
I have found that the majority of people in this world are looking for someone to follow. They are looking for someone who is moving ahead of them, taking risks and willing to lead them to the place that they want their life or business to be. Why shouldn't that person be you?
People also want to feel like they belong. They want to be part of something bigger than themselves. They want to make a change, but sometimes don't know how to do it on their own. This is where your community comes in. I can't wait to talk to you about how you can turn this community into cash, but for now I want you to understand the significance of belonging to a community.
Did you like this blog post?  Want to learn more about building community?  Check out this report on making cash from your social media time.