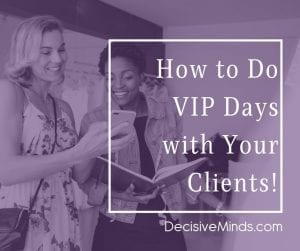 Are you thinking about adding VIP days as an additional revenue stream? Since starting Decisive Minds, I have done over 75 VIP Days. I am often asked how to do VIP days with a client.
In case you aren't sure, a VIP day is a day held by two or more people, who are hyper-focused on a specific outcome. For example, my clients hire me to create a strategic business exit plan or to create the plan for their event or creating recurring revenue streams, etc.
WARNING! Not having a plan for your VIP Day will quickly cost you clients, your reputation, and lots of money. This post is focused on how to do VIP days with your clients.
How to do VIP Days with Your Clients
Define a Goal:
Prior to starting the VIP day with your client, you should ask them what outcome they want. By knowing this ahead of time, you can do two things; set expectations so that the client feels satisfied with the results and create a day that delivers on your promise. It is really important that you don't over-promise. Remember, that you are limited on time and you will need time to make decisions.
Outline Your Day:
Every minute of your day should be planned out, from when and where you'll be having lunch, to the exact minute of departure. By leaving nothing to chance, you'll eliminate the possibility of running overtime, and you never have to worry about whether your client got the value out of it.
I start my VIP Days at 10 am. That means arrival and set up starts at about 9:30. I will take a 1-hour lunch around 1 and then we will end the day around 5. These days are quite intense, sometimes they may end earlier if the client can't stay focused that long. 
Also, for some clients, I have split the day into 2 half days. I don't like to do that but will because some people just can't make it all in one day.
Determine Your Content for the Day:
I find it easier to have 3 focuses of the day. Since you have already asked your client what they desire out of the day you can outline your content ahead of time.
For example, as a business coach, I do VIP days on how to create recurring revenue streams in your business. I will focus on the following sections:
In the 1st section of the day, we would discuss what the client is currently selling, who their client is, and what are the possible recurring revenue streams.
In the 2nd section of the day, we would create revenue plans for each of the possible streams.
The 3rd section of the day is about creating the marketing and sales plan.
My goal is to spend 2 hours on each section.
Now that you know how to do VIP Days, are you ready to make money with your own VIP days?
Great. The next question is how do you attract the right people who are willing to pay you $5000 or $10000 for a single day's work. Maybe you are wondering how much you should be charging for your VIP days.
You are in luck! In my "VIP Days Mastered: How to Earn a Month's Income in 1 Day" webinar I am going to show you how to know what to charge and how to attract the perfect clients for VIP Days.
Click here to get access to the webinar.
Original post 12/8/2016 – updated March 2021