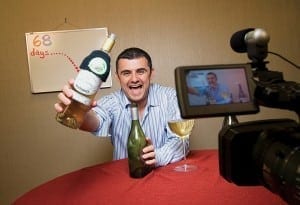 Today I was really excited to get to listen to Darren Hardy of Success Magazine interview Gary Vaynerchuk of Wine Library TV.
If you have not heard of Gary he made his fortune branding and growing his family's wine shop to a 50 million dollar business. Then in 2006 he started building his personal brand and Wine Library TV online where 90 thousand people now tune in daily.
Darren asked Gary to give the 1st 3 steps people need to take to get themselves started in the business of their dream, turn their passion into a profitable business.  His answer was very interesting.
Gary started by explaining that you are going into a 2-year battle so you have to "get your head right".  This is not going to happen overnight.  You need to realize that "this is going to take a lot of time, outrageous work and you may see nothing good happen for 18 months". Once you can get yourself mentally there, believe that is what is going to happen and be ok with that then you are ready to get started.
Gary Vaynerchuk top 3 tips

Build Content – You must, must, must have a blog.  That is how you are going to have contact with the world and build your brand.

Network and Work The Room – This means social media, forums, Facebook, Twitter, Linkedin, Google Buzz – everywhere that your potential customers are.  Now that doesn't mean 50 sites but at least 5 to 7.  You must wrap your mind around the fact that you will have to spend time there and nurture the relationship and answer the questions.


Run It Like A Business – It's not about making friends.  You have to know how to make money with it – how to monetize it.
This was a fantastic interview and just one of the reasons I love Success Magazine!
Gary Vaynerchuk's new book "Crush It!  Why Now is the Time to Cash in on Your Passion" is out now and I can't wait to read it.