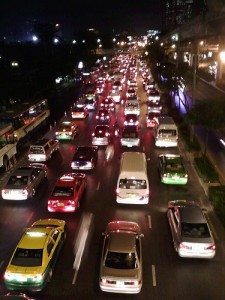 On your mark, get set, go…. you've built your website, you have a few interesting posts, you've quit your job (hopefully not!) and now you can sit back, relax and watch the money roll in!
Oh, that's not quite how it works?  Yeah… build it and they will come doesn't work.  In order for people to come, you need to invite them to visit.  Attracting traffic (or inviting prospects to check you out) is the very first step in the perfect coaching customer lifecycle.  Click here for a summary of the other steps in the cycle.
OK, getting traffic to your site is much easier said than done, right?  Actually, it isn't rocket science – the key is providing value to your prospects.  At Decisive Minds, we get traffic to our site in three main ways:
1.  Creating useful content is the best way to get traffic to your site and to build your credibility.  Find out what your customers' biggest problems are – and then get them that information.  Don't be afraid to give away your whole process for free on your blog.  Prospects will love that you are being helpful and gladly pay to have you customize your system to their unique business.  Whenever we take part in the ultimate blog challenge, we end up seeing huge increases in traffic.  Interviewing others and being interviewed for teleseminars, webinars and podcasts is another great way to increase traffic to your site.
2. Sharing useful content is another very helpful tactic.  One way is to share relevant content from others with your readers.  Spending time following the trends in your niche and sharing the most important nuggets is a valuable service you can provide to your community. You'll also get on the radar of the people who's content you share.  They are likely to share your content with their audience. I've built some amazing relationships by generously sharing other people's content.
3.  Advertising  If done right, advertising can easily bring a flood of traffic to your site.  If done wrong, it can be a huge money pit that doesn't bring results.  The good news is that Facebook ads (especially promoted posts) are not very expensive ($5 to $15 to promote a post) and usually bring good results.  The key to advertising success is really knowing who your target audience is and how to target them through those advertisements.  All of the online channels, allow you to target prospects demographically – which can help you stretch your advertising dollar by only reaching the ideal audience for your product.
What are your biggest struggles and successes around attracting traffic to your site – please share in the comments section.
And I still have some spots left for the free social media conversion sessions I'm offering: click here to apply.