Are you utilizing a Facebook Business (Fan) Page to promote your business?  If not you are missing a huge opportunity to educate people from all parts of the world about your products or services as well as driving traffic to your website.  Wait – I am not going to get on my soap box – that is a subject for another post!
So you have a FB Business Page – do you want to know the #1 thing that you can do immediately to put you out ahead of the pack when utilizing your page?
Before I tell you what it is I am wondering if you feel like you are getting value from your page?  Are you actively promoting it –
Visiting other pages or groups that would interest your ideal client and promoting on those pages?
Having conversations with the fans of your page? Engage, Engage, Engage!
Running ads on Facebook?  I have done this with great success!
Writing blog posts about it?
Commenting on others blog posts and signing off with your page URL?
Is your Business Page URL in your

email signature file

?
These are just a few of the many ways you can promote your page but wait there might be a problem.  Maybe you aren't doing these things because you haven't heard of the #1 way to make it easier to promote your page?
It is simply something Facebook calls a "Vanity" URL – so what is a vanity URL?
Well as I am sure you know when you first set up your page facebook gives you a super long url with lots of code, numbers, letters, equal signs, etc.  It is a real pain in the rear end to have to use this long url when promoting your page.  So Facebook decided that once you have 25 fans on your page you can request your shorter "Vanity" URL that will make promoting and thus your life so much easier.
To get your special vanity URL you can follow these simple steps: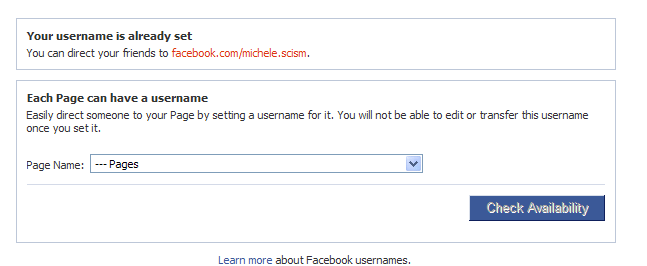 Go to this link http://www.facebook.com/username.  There you will see a box that will say "Your username has been set" if you have already set your personal user name.
Below that box you will see "Set a username for your Pages"- click on this.
Click on the Page you want to change from the drop down box.
Choose a new name for your page.  Remember shorter is better and it should be easy to remember.  For my page "Decisive Minds-Success Strategies for Women Business Owners" I chose DecisiveMinds.  So now when I want to send someone to my page I simply say www.Facebook.com/DecisiveMinds.
It's important to remember that it might take an act of God to change this if you could ever get it changed so be careful with what you choose, take a little time and put some thought into it.  Update – in Jan 11 Facebook changed the rules and now you can change your fan page name up to the point when you have 100 fans.
So now it's your turn – Go get your Vanity URL!  Make it easy for people to find you and they will.  Then get out there and start telling everyone about your new URL – you just might be surprised how many new fans you get.
I can tell you from experience that once you get to 500 fans it really starts to explode.  With some work and good interactions our page currently has over 1100 fans and that is within the first 40 days of it being active.  So this works!!