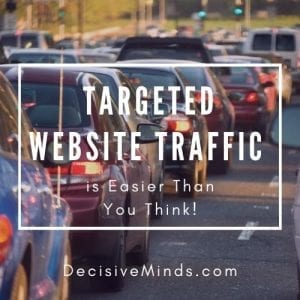 Online, one of the most significant keys to success is getting targeted website traffic. The more visitors you have, the better your sales and profits.
I am going to jump right in. Before we start with the tips I am wondering how often you conduct keyword research? At least once a quarter, you will want to use a keyword research program like the Google Keyword Planner Tool to make sure you are staying on top of what's popular. If you haven't done it lately be sure to put it as your first to do after you finish reading this post.
Targeted Website Traffic Tip #1: Make sure you're using your keywords
When search engines are trying to figure out whether to share your content, your use of keywords can make their job easier.
Be sure your keyword or keyword phrase is in the title of your content. For example, in this post the keyword phrase I am using is "targeted website traffic" and you will notice it is in the title.
Second, you want to use it a few times in the content but don't overuse it. They call that keyword stuffing.
Third, use your keyword or keyword phrase in a subheader in the post. Notice the subhead of this section includes my keyword phrase.
**Helpful tip. I use a WordPress plugin called Yoast that helps me know whether I am doing a good job with this.
Tip #2: Add content to your site daily
Content is essential to increase targeted website traffic and to attain top search engine ranking. Give visitors and search engines a reason to visit and index your site. Make a commitment to provide daily, optimized content, and your traffic will soar.
Tip #3: Using links in your content
The more websites which link to your web pages the more valuable search engines perceive you to be, though not all links are created equal. Search engines give more leverage to links from sites that are popular and credible and from sites that are relevant to your website topic.
There are different types of links:
Direct links look like a basic website address, for example, Amazon.com
Text links occur when the website address is embedded in the text. Readers simply click on the link and are redirected to a new website page.
Internal site links are when you link to content on your own site. For example, check out Why Isn't Your Website Making Money
Tip #4: Be Social!
Internet marketing is about building a community. Whether you offer a forum on your website or you participate in social networking sites you can drive valuable targeted website traffic. Sites like Facebook and Twitter can be powerful tools for generating links and traffic to your site – create a profile and then post comments, links to your site, and ideas that generate conversations.
You can look for industry-specific groups, find those which cater to your industry specifically, and begin participating. Speak to and connect with a highly targeted audience.
Tip #5: Advertise for more exposure and traffic
Advertising, when handled strategically, can be used to promote your content and products or services. PPC advertising is often the tool of choice because you control the advertising budget on a daily basis and have the tools to test and track your advertising efforts. Once you have honed your PPC ads the return on investment can be phenomenal in terms of traffic and purchases.
For maximum results, create a traffic and SEO strategy. Outline your plan and your goals and then take the necessary action. Take advantage of these five traffic and search engine tips to boost your business.