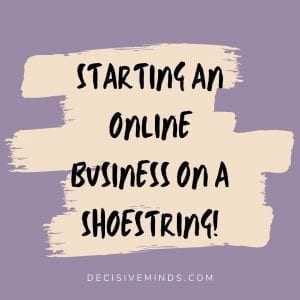 When you start an online business, you either have a budget for marketing or product development or you don't. Maybe you have a bit of money from your current or former job or business to invest. If you do, a great place to start is my create and market your first product in 30 days course. If you don't even have $100 to start with, you can still start a business on a shoestring budget.
The most important thing – is that if you are truly starting a business on a shoestring, you need to invest any money you make straight back into your business for a while.  That will help you make even more money faster. I'm going to outline some ways to get free advertising and free lead generation.  These methods don't cost money – but they do take time.  You are going to have to spend the time implementing if you want them to work for you.  When you start making money, you can invest in the paid versions of the tools – which will save you a lot of time.
What to focus on when starting a business on a shoestring
The first thing you need is a website.  You can build a simple site on WordPress.com for free.  You can import it to a hosted site (hosting is about $10 a month), once you start bringing in some money. Need help creating a website? Check out Fiverr.com to find someone to help for little money.
The next thing is an autoresponder.  ActiveCampaign and MailChimp are both good places to get started.  You can upgrade to Infusionsoft once your list is a little bigger and you can afford the larger fee.  The purpose of the autoresponder is to help you keep in touch with your client list.
You should also have a presence on Facebook and one other social media platform (for most people I still recommend LinkedIn – because it is easy to reach out to groups and to artfully craft your profile to show up in search listings.
Once you have your website, autoresponder, and social media set up, you need to get people to come to your site (this is called traffic building).  This is where you will spend most of your time.   The method of traffic building that works best for me (and most of my clients) is content marketing.
Content marketing is creating useful articles for your audience and posting them on your blog.  You can also submit content like articles, post to social media, etc.  One of the best ways to get your content out there is to ask other blog owners to publish it – this is called guest blogging.  Most blog owners are very happy to publish your quality content.  To find blogs that accept guest bloggers, do a little google search. Type in your niche and guest blogger guidelines.  The blogs that come up are interested in guest blogging content.  It also doesn't hurt to publish guest blogs on your blog – the people who write will generally promote their post on your blog to their entire audience.
The key is to create some content and promote it every day when you are getting started.  You can move to longer, meatier posts when you've built up your base of traffic.   Wait… no whining… if you are looking for blogging ideas – check out these 103 great blog starters from my friend Michelle Shaeffer.
If you keep creating content on a consistent basis, you'll be building a foundation for your first product.