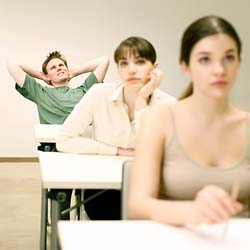 Did you know that your social media accounts are a gold mine of information about your prospects. Often small business owners get wrapped up in sending out information via social media — that they don't bother to track the information that their clients are giving them every day via interaction. Keeping track of the results of your posts will help you to build relationships more quickly because you'll be giving more of what they've been reacting to.
Here's a basic way to start. Ask yourself:
1. What types of posts you make elicit the most comments?
2. Who are your most engaged followers or friends? (What do they do?  What do they have in common with each other?)
3. Who consistently pops up again on other networks you visit?
4. What motivates your most engaged fellow networker?
In addition, there are basic social metrics you should monitor.
• Visitors
• Traffic sources
• Comments
• Rise and fall of involvement
• Number of "friends" or followers
• Increase in "friends" or followers
• Conversion (to subscribers, sales)
• Bounce rates (when people leave your sites almost as fast as they arrive)
Each of the four major social networks provides some form of tracking and feedback. The shocking part is that according to several sources, approximately 85% of all small companies and online entrepreneurs don't bother to track.
Here are some quick tips to help you with your tracking:
1. Start by making sure you install sharing devices embedded in every single one of your social media pages, blog sidebars, bios (where appropriate) and websites. By "sharing devices", I mean badges and chiclets that let people "share", "like", "tweet", etc.
2. Track which posts incite the most engagement (comments, sharing).
3. Include calls to action in posts and on social networks encouraging people to share, tweet, pass on, etc. (This can be as simple as adding "Tell your friends" or "Please share" at the end of a post, or sending email invitations via Facebook.)
4. Use YouTube to create content you can share on social networks — "How to" videos, video reviews, funny clips, etc.
5. Use Google Analytics
6. Promptly answer or acknowledge every comment (or at least press the "Like" button, if you're on Facebook).
If you do the above and pay attention to the metrics, you'll quickly have quite a lot of data.   The next question is – how to use it?
If you see increased traffic or participation, ask yourself if it has increased conversions or sales.  Does your social media just seem to flow better?
Remember that "flow" doesn't just refer to metrics, however: "Flow" also means keeping your follower or fan happy and engaged, so that he or she feels "in the zone" and time flies by without even being noticed.
Experiment with different types of content to see which types engage your audience the most. Some suggestions:
• Polls
• Quizzes
• Contests
• Tools you create, get special deals for or tip your audience off about
• Apps you create
• Quick "How to" videos
• Themes (E.G. "Mad Monday", "Quote of the Day", etc.)
• Questions
How to do increase engagement with your audience?