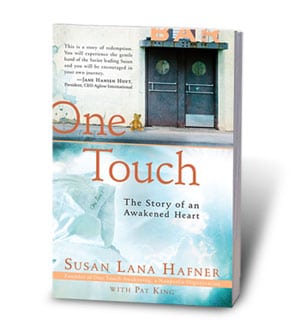 Over the last few days I have had the pleasure of reading "One Touch-The Story of an Awakened Heart" by Susan Lana Hafner.  The book was recently handed to me by a dear friend and I must say I am so glad it was.
Susan's (Lana's) story is powerful.  This is an amazing autobiography of her life.  She spend her childhood growing up in bars with her mother who had a mental illness and believing that "I am not important in life except for one reason, to take care of Mama.  What I feel does not matter."  Then eventually finding God in a Baptist church in Louisiana and completely changing her life.
The story will keep you captivated at every turn of the page.  I had a difficult time putting it down.  Along the way I was blessed to learn a few things about myself from Susan's story.  Do yourself a favor and order your copy immediately.
Susan is the founder of One Touch Awakening, a non-profit organization that provides pillowcases, snuggle pillows, and mosquito nets that are intended to encourage people to have a nightly private meeting place with God.  She was the co-owner of a Christian bookstore for 24 years, and has served as both local and area president with Aglow International.  Susan frequently speaks at retreats, churches, and other organizations.  She lives in Louisiana with her husband, Micheal.