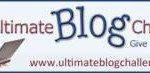 Yes, the blog challenge ended a week and a half ago.  The Extreme Income Explosion Summit was last weekend, so I'm just now catching up…
So… drum roll please…  as a result of the blog challenge:
Unique visitors to my website went  up by 24%
The number of visits up went by 36%
Hits went up by 41% over last month.
My stats also improved on facebook and twitter (since I tweeted and posted each time).
Here are some lessons I learned from the blog challenge this time:
Having an editorial calendar really helped.  At the beginning of the challenge, we planned out every post for the month.  We didn't necessarily follow the plan – but it certainly helped to have an default topic for each day.
It was also helpful to create a running theme of posts for the month.  This challenge my focus was on visibility.
Finally,  I planned a certain number of social media posts each week.
Having the posts organized helped me stay on schedule throughout the blog challenge.   For those of you who finished, what were the strategies that worked for you?