Google places has always been one of the best kept secrets in social media. If your business is local (or can be found on a map) – Google places has always provided a bit of a shortcut to getting to the top of google. Places is the little map that shows up when you search with the letters. Here is the map for jazz clubs in New Orleans (you'll get to sample some clubs when you visit me for Take Action Get Profits New Orleans in October). The only thing you needed to get on the map was to pay a tiny bit of attention to your google places page (add photos, get reviews, make sure there are keywords in your description.)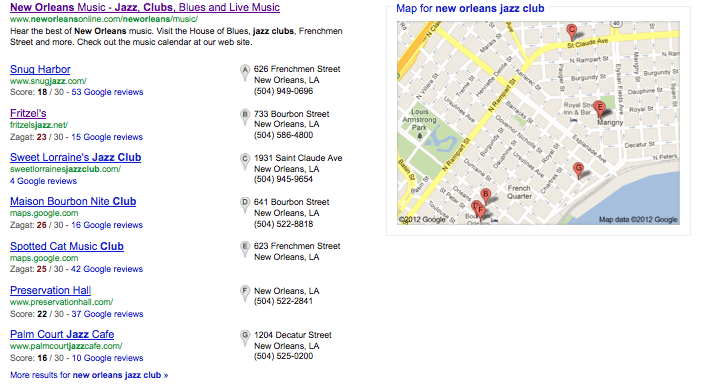 Google has now decided to merge google+ local pages with google places. This makes sense in a number of ways – and will make it easier for your business to be social on google. In the short run, not much is changing – the review system is moving from google's 5 point star system to zagat's 30 point system — and there is tighter integration with google+.
So.. what does this really mean for your business. I think in the long run, google will become a very powerful tool for local businesses. In the short term, I decided to go straight to the source. Here is an informative video from Vanessa Schieder the Google Places community manager and Jade Wang the Google+ local community manager that goes through the changes and what they mean to your business.
It is worth watching the whole video – but here is a timeline in case you want to skim.
.0:01 Intro: This week's episode's all about Google+ Local
00:13 Meet Jade, the Google+ Local community manager
00:34 So what happened this week? New design, new scoring system, what hasn't changed, and more
2:14 Common questions we've been seeing from you guys
2:29 How do I combine my Google+ page and new local Google+ listing?
3:27 What's the difference between a Google+ page and a local Google+ page?
4:29 What should I as a business owner do?
4:50 Should I create a Google+ page?
5:54 How's this all eventually going to work?
6:49 Has verification changed at all?
7:17 Has ranking changed?
7:42 Do my customers need a Google+ account to leave a review?
8:06 Should I be worried about this?
8:59 How can I share my feedback about the changes?
9:41 How to flag a review as inappropriate?
Have you been using google places to promote your business? What do you think of the changes? Post a comment and let me know.