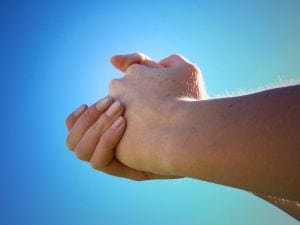 ..Beg if I want to, Beg if I want to!  You would beg to if you knew what could happen to you!! (Now that song will be stuck in my head all day!)

It's times like these when it is good to be the one writing the post!  I have something VERY important to share with all of the fabulous business owners, coaches and mentors that I know.
Yes, I will get around to telling you what I am begging for but first I have a couple of questions.
Do you have a specific purpose, passion and goal for your business and/or life for that matter?
Do you have such a well defined vision of your business that it is obvious to all of those around you?
Confession time – A year ago I did not.  I knew one thing and that was that I was supposed to be helping women.  I didn't know how I was supposed to be helping, what I was supposed to be doing or when I was supposed to do it.
I don't know if you can relate but my mind was jumping around like a frog on a hot tin roof.  (Could have been my ADD kicking in) Maybe I would be a life coach, maybe I should teach people about personalities, maybe I would be a spiritual mentor, maybe I would be a writer and then there is everything that I know about business. I was really confused!

My head was spinning.  So I jumped into the area of life coaching because I want to help women and I immediately started listening to tele-seminars to see what everyone else was doing.  Unfortunately, every time I listened to a tele-seminar I found a new great direction for my life.  I was changing my direction sometimes daily and I knew something was wrong.
That is when I had the good fortune to meet Nancy Marmolejo.  Thank goodness I was smart enough to join her mailing list and I started to receive the most amazing information about how to focus myself.  But I was still jumping around from idea to idea.  I just couldn't put it together in my brain – exactly what I should be doing.
The true Ah-Ha moment!

Long story short – A few months later I had the privilege of speaking with Nancy and she asked me a few very simple questions and helped me to wrap my brain around what it is that I should be doing to help women.
I have to say, and I hope you agree, that I have truly found my calling as a business strategist.  I love every aspect of my business!  I can't wait to talk to you guys every day!  There is something amazing that happens to you when you find exactly what it is that you are supposed to be doing – something that uses all of your God given talents and you find fun!
With a few simple questions Nancy was able to help me realize:

That there are unique things about me that I should be doing in my business.

How I can work with my ideal clients who want what I have.

That my intuition was supposed to be a big part of my business.

How to set up my business so it was different from all the others in my field.
I tell everyone that Nancy is the reason I am here today – she is an angel that appeared in my life exactly when I needed her.
OK, I said I would get to the begging part and here it is……
I have had the privilege to speak to so many business owners and coaches and I hear this same story from so many of them – they just haven't found that exact path for their business yet.
I wanted to do something to help each and every one of you so I have asked Nancy Marmolejo if I could interview her so that she could help you guys the way she helped me.
I think you need it – You probably know you need it!
Do you absolutely love your business?  Is it so perfect that you would not change a thing about it?  If so I applaud you, If not I beg you to listen to the call I will be having with Nancy.
The call is FREE as my gift to you and if for any reason you can't listen to the call register anyway.  Everyone who registers will get the replay emailed to you so you can listen when it is convenient.
Please, Please, Please register – I promise you that you will learn something powerful from this woman!
Simply click here to register:

http://www.iheartmybiz.com/Michele
The call will be Wednesday, May 19th at 7PM Eastern.
The replay link will be emailed to you following the call.
"What the mind of man can conceive and believe, it can achieve." Napoleon Hill