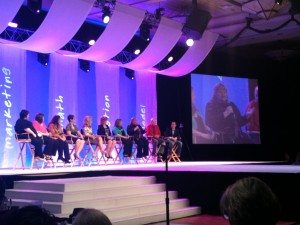 If you have ever been to a Suzanne Evans event you know exactly what I mean. During my 13 hour drive home I spent a lot of time thinking about everything that I had just taken in and there are a few things I want you to think about.
First, have you ever sponsored an event in your industry? This was the first time I officially sponsored an event. It was an amazing learning experience. If I can give you any advice it is to stretch your sponsorship. Sponsor at a scary level. For me this sponsorship was both monetarily scary and putting myself out there scary. As a shy introvert, the thought of standing in a booth and talking to total strangers gives me the shakes but I easily got around that by having 4 wonderful clients taking turns working the booth with me. They would start a conversation with someone walking by and then introduce them to me. This worked fabulously.
However, I think the biggest benefit of sponsoring wasn't necessarily the many hours I spent meeting people in my booth but the ability to be promoted as an expert in my field by someone who has a powerful voice in her own community. Each attendee (all 650 of them) brought home a resource binder with my advertisement in it and a write up about my business. This is something they will be able to refer to for a long time. Then there is the power of Suzanne standing on stage and introducing me as the expert. Remember people are much more likely to rely on Suzannes recommendation than mine. Then there is my logo on the website for the event which will stay there for months to come.
The second thing I was thinking about was the actual networking that was going on over these 3 days. You could see it everywhere – in the halls, in the breakout sessions, in the booths, in the restaurants and in the bar to name a few. So my question for you is do you understand the value of face to face networking? I know that I talk a lot about social media and how powerful it is for networking but let me tell you that you reach a totally different level in your relationship when you meet someone face to face.
I met some powerful people at this event, people I have been connected with on social media for a while, but now that we have met and had personal conversations we are going to be promoting each other products/services, interviewing each other for radio shows and teleseminars, and much much more. I want to make sure that you understand the real value behind face to face networking. I just can't stress this enough.
The third thing I wanted to talk to you about was something Suzanne said during the event. She said "Pick your brain is code for I want your stuff for free." How many times had someone said to you "I just want to visit for a little bit and pick your brain." No more I say!! You are an expert in your field and you need to be getting paid for your expertise. So when someone asks if they can pick your brain you politely answer "Absolutely, It is $397 for an hour or $197 for a half hour." End of discussion.
So I would love to hear some of your experiences with in person events – what words of wisdom do you have to share?