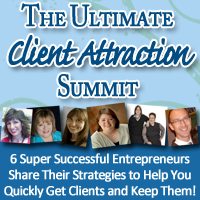 By Michele Scism
The Results Lady
Survey question: If you could ask 1 question about how to get more clients what would it be?
I have a business coaching practice, how do you get the prospect to understand the benefits vs the cost of coaching?
This was one of the actual answers I received when I asked this survey question.  I ran this survey a month ago when I started thinking about putting together a free virtual summit for coaches, entrepreneurs, small business owners and service professionals about how to get more clients.
To answer this question I went straight to Adam Urbanski, The Millionaire Marketing Mentor.  Adam was gracious enough to agree to be interviewed on September 13, 2010 during The Ultimate Client Attraction Summit.
I don't know who actually asked the question, because the survey's were anonymous, but if I did know I would tell them to be sure to be on this call.  He has some great information that he is going to be sharing with everyone.
When we were speaking he had so many amazing things to say that I was scribbling as fast as I could.  I don't want to give you all of the information, because frankly it sounds better coming out his mouth with that polish accent.
But here is a little of what I wrote down:

How to promote your coaching program and the best ways to fill your high-ticket programs with quality people.

Power persuasion and client enrollment secrets from a 7 figure coach.

One specific secret that will double or triple your program enrollment.  I must say that one alone had me.  I was mesmerized.
So are you ready to add new clients to your high-ticket coaching program?
Reserve your free tele-seat here == > The Ultimate Client Attraction Summit
Don't worry if the time doesn't fit in your schedule – the recordings of the interview will be up for 24 hours after the call.
I thought you might want to know more about Adam – Here are a few articles of his I found on Ezine Articles.
Win More Sales With a 5 Steps Sales Process
Discover the Winning Marketing Strategy Secrets of Donald Trump Apprentice Wanna-bes