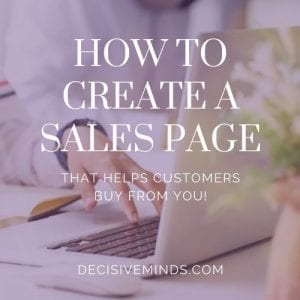 Going through the process of creating a sales page and having nobody buy is one of the newbie entrepreneurs' greatest fears. Sales pages take readers through the entire buying decision making process step by step.  Today we are going to look at how to create a sales page that converts.
Here's how to create a sales page that helps people decide to buy from you.
The main tasks you need to accomplish on a sales page are:
Make people realize they have a problem that they urgently need to solve. This is the most important part of your sales page – if people don't realize they have a problem – they have no reason to buy from you.  As much as it may hurt you to do it, you need to push on your customers' pain points so that they realize that they need your product or service right now.
Let them know that you are an expert in solving that problem  Once your customer realizes they have a problem that needs solving – the next step is to build your credibility so that they know that you are the person to help them.  This can just be a sentence or two that highlights your experience.
Hint at the solution to the problem and how they will benefit from using your product. In this section, you point to the solution to the problem briefly and then point out the benefits of the product (not the features).  For example, if I were creating a class on how to use Pinterest, I would talk about the ability to reach more customers rather than stopping with a description of how many classes I was planning and how they would be delivered.
Show that other people have used the product and have been successful with it.   There are so many dishonest people on the Internet that is is important to show that people have had success with you (or with using your product).  Brainstorm what you think the biggest objections will be to using your product and solicit testimonials to meet those objections.  If you are just starting out, send friends review copies, and ask for honest feedback.
Make them feel safe by offering a reasonable guarantee  Again, the Internet is a scary place full of dishonest people.  Create a guarantee so that people can buy and know that if the product is not for them, you'll give them a refund. (Tip – if you create a good product – most people won't ask for refunds).
Have an offer that is irresistible (people love to get a good deal).  If you offer a lot of value to your customers, they will have a hard time saying now.  Add bonuses like checklists, videos, and even strategy sessions to make your offering even more tempting.
What are your best tips for how to create a sales page?  Drop by my Facebook page and let us know what you are doing.
If you want more information on how to create a sales page that wows customers and increases profits – check out my how to create a product in 30 days course.