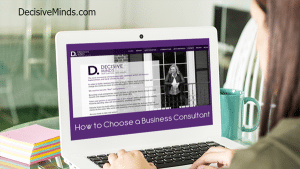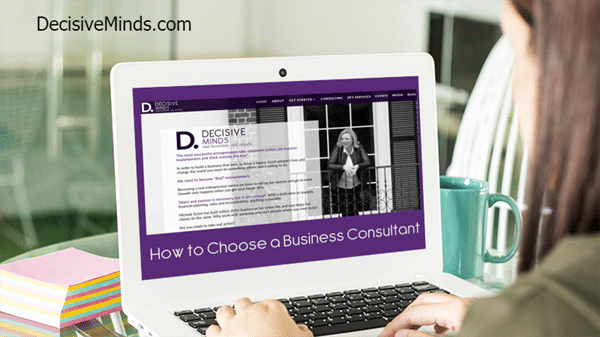 One of the best aspects of owning your own business is that you're in control of everything that happens with your company. Since you're the boss, you get to make all of the strategic and operational decisions that will determine the future success of your business.
Even if you're extremely competent and well-experienced in your field, it's still likely that at some point you're going to come upon a business challenge you can't (or shouldn't)  try to handle yourself. Many times the best path forward is to bring in outside help in the form of a business consultant.
Choosing a business consultant can sometimes feel a bit overwhelming. Here are some tips for selecting the best business consultant to help you solve your issues.
Questions you should ask before choosing a Business Consultant:
What Do I Need Help With
?
Before you start looking to retain a business consultant, it's important to know what you're looking for. What do you envision as being the business consultant's scope of engagement? In other words, why are you looking to hire a consultant in the first place?
Do you need help revamping your website? Do you need help with product development? Do you need assistance with figuring out the best way to break into a new market? Are you ready to sell your company and need a business consultant to show you what steps to take to get the most money?
What Type of Help do I Need
?
Once you've identified the area of your business that you're looking for help with, you need to decide what type of assistance will be most valuable.
Do you need help with a single project, or do you anticipate needing ongoing assistance over time? Are you looking to simply turn a project over to a business consultant along with the project requirements and then get the finished project back from them, or do you want a more collaborative engagement?
What's the Business Consultant's Experience
?
As you consider different business consultant options, look at their experience in terms of relevant work as well as the amount of time they've been providing services to their clients. If possible, ask for referrals or examples of their prior work.
Don't be fooled, not all business consultants are the same. It has been my experience that a lot of people call themselves business consultants or business coaches and they have never even owned a business.
How Much Does the Business Consultant Charge for Their Services
?
Only after you've identified a few possibilities based on the criteria above is it time to think about money. If you start your search for a business consultant based on price, then you're more likely to find someone who's less expensive, but who ends up costing you much more in the long run because they're not a good fit for your needs. Does the potential business consultant charge on an hourly or project basis?
It's perfectly natural to need help with some aspect of your business, and finding the best business consultant can fast-track your business success.
Recently I was working with one of my consulting clients here in Lake Charles and asked him why he chose me. He said that he was clear that he wanted to sell his company in the next 5 years. Since I have owned several businesses and sold 2 he knew I would know exactly what he needed. We have doubled the size of his business in the last 18 months and have started preparing for a new buyer. The moral of the story is, be clear about what you need and take action. Don't get hung up on the "What if's".