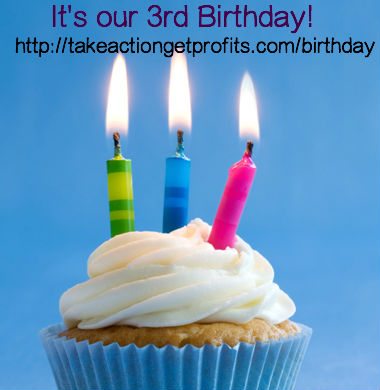 Wow… time sure does fly by.  Today is the third birthday of Decisive Minds.
When I started this business, I wasn't quite sure what I was doing or where it would go.  I would never have imagined all the fabulous mentors and clients I would work with, the places I would travel or the lives Decisive Minds has been able to change.
From the bottom of heart, I want to thank you for your support, for honoring me as your teacher and growing with me over these past three years.  I can wait for the next three to be even more productive.
A THANK YOU GIFT
As a special thank you for supporting, me, Decisive Minds and our mission to help people create thriving and profitable businesses, I'm offering a special gift of 75% my best getting started program.  You can get How to Create your Product in 30 Days, Pinterest 101 and Blog Mastery (and some other surprise bonuses) for $97  (all of these products sell for at least that – so this is a great deal).
Click here to find out more.