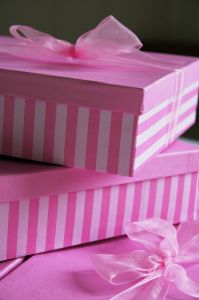 By Michele Scism
The Results Lady
Ready to add tens, hundreds or even thousands of new subscribers to your email list in a very short time? Then pay attention to today's way to build your email list because we're going to skyrocket your sign-ups with contests and giveaways!
Everyone loves free stuff. Contests and giveaways can make even the most logical people do strange things – like visit your website obsessively, tell all their friends, and jump through numerous hoops, just to get a chance at winning the big prize.
Blogs are a great forum for hosting contests or giveaways because they are the ideal place to build the community you need around an event to make it go viral. The biggest goal of any event of this type is to get as many qualified people entering as possible, which helps build exposure for your brand and build your list.
So how do you get your contest or giveaway going?
Let's look at a step by step plan:
1.      The prizes – What you give away is very important. The better the prizes the greater your chance of buzz. As far as where you can find prizes, you'll be pleasantly surprised about how many people will be happy to give you their product to give away in exchange for free exposure. One caveat: Your traffic will be more targeted – and hence convert better – if the prize you award is related to your market. For instance, anyone would love an iPad! But only a certain type of person is going to be interested in an hour consultation with a fly fishing expert. If your market is outdoorsmen, which do you think will convert better?
2.      The terms – What do your visitors have to do to win? For ideas, have a look at other contests that have been hosted in your industry. You can also look to other industries for new ideas that your market may not have seen over and over again. Often, at a minimum people are required to follow the blogger on Facebook and Twitter, sign up for the mailing list, and/or refer the contest to others through a blog post or other social media. Not only will this separate the serious contestants from the lookie-lous, it will also help spread the word about your contest.
3.      The time – Your giveaway or contest must have a deadline. You'll want to find a good balance between giving enough time for promotion and keeping it short enough to get people to take immediate action.
4.      The sign-up – Don't forget to set up your email opt-in. This can be a simple sign up form within a blog post that you link to and invite others to share. Make sure you have a way to capture all this traffic!
5.      The delivery – Your reputation is on the line when you host events like this. Make sure you deliver your prizes promptly after the contest ends. You can also limit entries to those in your country, and ask that the winner email you within a certain window of time after the contest is over in order to claim his or her prize.
Marketing Your Contest or Giveaway
A major key in the success of your event is going to be marketing and promotion. You have to let people know what you've got going on. Here are some ways to market your contest or giveaway:
Your List – If you already have a list definitely start there and ask them to share the contest details with others.
Contest/Giveaway Sites – You can list your contest or giveaway on sites that list these types of things. Perform a Google search for places you can list your event.
Social Media – People love to share good news! Using social media sites like Twitter and Facebook can help you go viral with your event.
Video Marketing – Make a video to help promote your giveaway, or ask entrants to record their own videos.
Article Marketing – Write articles and submit them to directories, blogs and websites.
Finally, if you are hosting any kind of giveaway or contest, check with a lawyer for the rules and laws surround hosting them in your state or province.
Contests and giveaways can be a very successful way to build your email list quickly. Plan on doing them on a regular basis and watch your email list (and business) grow!