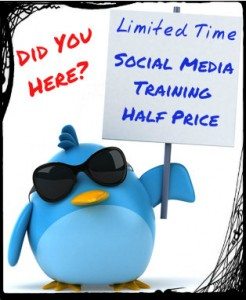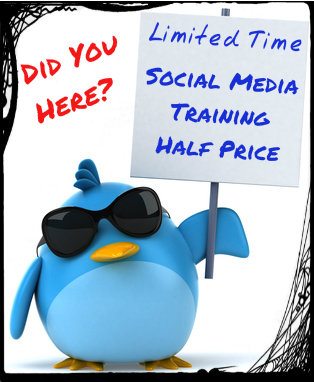 Have you been thinking about trying Facebook Offers to promote your business?  Before you just say "This is not for me", I want you to think about this.  Facebook has over 1 Billion users and half of those people log into Facebook every day.  As an entrepreneur I want you to think about what would happen to your business if even a sliver of those people started to pay attention to you and what you are doing.
Recently I have been spending a lot of time testing the new Facebook strategies to see which ones would convert well for me.  I have had great success with the new Promoted Posts option and then I started to work with Facebook Offers and I have to tell you I am some kind of excited.
It's important to note that you can not use the Promoted Posts option or create Facebook Offers until you have at least 400 "likes" on your page.
What are Facebook Offers?
Facebook Offers are similar to a coupon that you can promote on your Facebook Business Page.  There are 3 kinds of offers:
In Store Only: The offer email can be printed and shown at check out or it can be shown on a smartphone
In Store & Online: People can redeem at your business's physical location or on your website
Online Only: People can only redeem your offer by visiting your website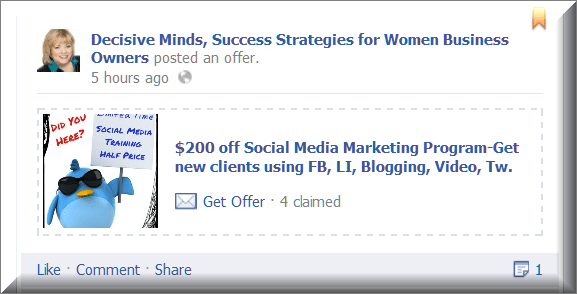 Like all online advertising, there are things that we can do to improve our conversion.  When it comes to Facebook Offers there are several things that I have found that increase your possibility for success.
Facebook Offers Insider Secret #1 – KISS (Keep It Simply Sweaty)
To create a Facebook Offer you simply need to decide what your offer will be.  Is it a discount on a specific product? When offering a discount you must make it substantial.  Facebook says that it should be in excess of 20%.  As you can see in the offer above I am offering $200 off the price of a social media training program.  This program is priced at $397 so this is a 50% discount.
How about a buy one get one free or maybe a buy one and share one with a friend?  This would be great for the upcoming holidays.  If you are an organizer then maybe it is buy one session and give one session to a friend.  If you have a bakery then maybe it is buy 1 cupcake get one free.
It's extremely important to remember when creating your Facebook Offers that the more hoops you make someone jump through the less likely they are to take you up on the offer.  Remember KISS!  (Yes I know that sometimes the last S stands for something else)
Oh and just in case you are wondering where to create your Facebook Offer, go to your business page and in the section where you would normally create an update you simply click on the "Offers/Events" button instead.
Facebook Offers Insider Secret #2 – Visual, Visual, Visual
In the world of social media right now it is all about the image and Facebook Offers are no different.  Half the battle is the image.  The current specs for the Facebook Offers image is 90 x 90 pixels.  Any image that is not square will be cropped to a square.  You can see in my example above that my image was cropped.
So what should your image be?  Well Facebook recommends a picture of your product or a picture of someone using your product.  I like the idea of it being something colorful with a message.  What you need to remember is that your image will be small on the newsfeed so you don't want it to be overly crowded.  The organizer we were talking about earlier might use an image of a woman sitting at her clean desk smiling.  The bakery might use a picture of a beautiful cupcake (that would get my attention).
Facebook Offers Insider Secret #3 – Go the Extra Mile
Just putting up an offer will not guarantee your success.  I have found that when I got the extra mile I see huge improvements in conversion so I wanted to share with you a couple of things that I do.
1.  Pin your offer to the top of your Facebook Page.  In the top right hand corner of your post Facebook gives you the option to pin the post to the top.  By doing this everyone who comes to your page for the next 7 days will see this post 1st.
2.  Upload the image that you used for the offer directly to your page (and you can pin it on Pinterest and Tweet it).  In the description of the image be sure to put a description of the offer and a link to your website.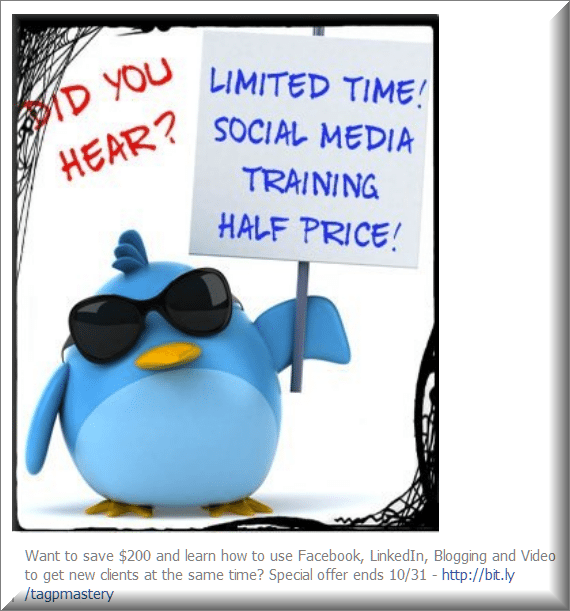 3.  Write a blog post about it.  As you can see I am modeling that for you here.  I have successfully been able to write a blog post that gives you great information that will improver your social media marketing but also let's you know that I have a special running on my social media training program.  (This is a limited time offer which expires on 10/31/12 – http://TakeActionGetProfitsMastery.com).  What could you write about it?  Then you can share that blog post on all of your social media platforms.