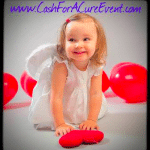 Creating products is how you begin to move past the hours for dollars to a more leveraged income stream.  I'm going to be covering my whole blueprint for a successful multiple six figure business in my Cash for a Cure livestream on Friday, March 14 (you can get this training worth $1470 for a $20 donation to St. Jude's Children's Hospital).  Sign up here –  Cash for A Cure.
Step 1 – Brainstorm and decide on Price
Begin by simply gathering information on what your target market wants. What are the hot topics? What types of products are they purchasing already? What do you have that can be repurposed?
Is this an entry-level product? What price point? The price point is not in stone it is just an estimation at this point to help determine what pieces you will include in the product. What form will it take? Will it be an e-book or an audio series?
Step 2 – Sell the Product
Create the sales page! Market the sales page and sell the product! Once you have sales move on to step 3. (I'll be going into how to this in the livestream on Friday)
Step 3 – Create the Product
If creating an e-book do you have pre-written material you can use?
If it is going to be an audio/transcript program, do you have a call you have already recorded that can be transcribed or do you need to schedule a free teleseminar?
If it is going to be a home study course, do you have the material already or do you need to get in front of a live audience and record?
Step 4 – Implement
CREATE!!! And keep on selling it!
Want to learn more about *selling* your product?  Join me on Friday. March 13 for my 4 hour livestream.