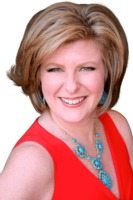 By Michele Scism
The Results Lady
Another amazing woman that I met at the eWomen Network 2011 conference was Fabienne Fredrickson from ClientAttraction.com.  I have listened to her speak so many times but never in person and it was so exciting to be in that super packed room to hear her speak.  I thought it would be great if I could share a little of her with you.
Here is a video she created before the conference on the subject of networking tips – definitely a subject we all need to focus on right.
Isn't she great!  Extremely genuine – what you see if what you get.  I really enjoyed her class and look forward to learning more from her in the near future.