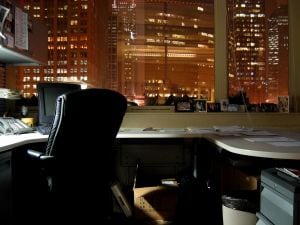 Recently I was asked if Facebook could be a good business tool for specialized businesses.  My answer "ABSOLUTELY"!
We all know what a powerful tool Facebook and other Social Media sites are for those who are selling business coaching services or cosmetics or books, etc. but how can we use it to grow a medical transcription business, for example.
I am not going to claim to know a lot about this industry but for our example we are going to assume that this business
#1 has employees or hires freelancers to do the transcribing and

#2 does the transcribing for doctors and hospitals.
To have a successful growing business you have to market to both potential employees and potential clients.

A quick search for "medical transcription" on Facebook, as of the writing of this article, finds over 1500 people with the words in their profile, 83 pages dedicated to medical transcription and 192 groups.
The largest page has 500 members and is a medical transcription job search site.  The largest group has over 2500 members and is a group for anyone wanting to discuss the industry.
How Does This Work For Our Specialized Business?
It is important to understand that people want to work for and want to buy from people and companies that they know and trust.  Facebook Fan Pages give you an easy tool to build your credibility.

Become the Leading Authority on medical transcription?
Being the leading authority equals instant credibility.  If you need financial advice are you going to ask your neighbor or are you going to ask the person who wrote a book, has a radio program or gives useful advice online.  So if you are not currently a well known medical transcriptionist how do you become the leading authority.
Use your Facebook Fan Page for the following 3 things:
#1 Promote Yourself & Your Business
Write a book or an e-book – something short that you can give to prospective employees & clients.  You can promote the book and/or e-book on your fan page.  Give it away as a contest prize.  I recently wrote my first book "Makeover Your Business in 6 Weeks or Less" and it has brought me some great recognition.  I know this can sound really scary to someone who hasn't done it before but I did it with the help of my good friend Donna Kozik and her "Write a Book in a Weekend" course.  I did just that – wrote my book in 2 days.  It was an amazing weekend.
What could you write about – your life as a medical transcriptionist?  I did a quick google adword search and found that a few of the top keywords for the field would be medical transcription jobs, home medical transcription, online medical transcription and medical transcription training.  All of these would be great topics.
At this point you might be thinking – how is this going to get me new customers?  You start to promote the book to people in your industry (freelancers, potential employees, potential clients), you sell it on Amazon which gives you instant credibility, people start to talk about it, The Today show wants to do an article on medical transcription so they call you because you wrote the book – do you see where I am going.
I'm not going to go into great detail but you should be blogging as well.  Blogging is a great way to tell the world about you and your business.  It is also very easy to promote through your page.
#2 – Give great tips on your fan page
Get in the mode of sharing tips online – another great tool to build credibility.  As the owner of the specialized business you know a lot of things – things you probably take for granted and assume everyone else in your industry knows.  Trust me – they don't.  People will want to see what you are going to post next because they are learning things from you – they begin to really trust you and if you remember, people want to work for and buy from those they trust.
Now both of these have been maybe a little more geared towards the potential employee and freelancers but what about those doctors offices.
#3 Getting Potential Clients Involved
To continue with our medical transcription example, a quick search of the word Doctor on Facebook found over 3600 Fan pages (some with over 25,000 fans) already in existence.  Now that your page is up and you have been putting some great content on it it is time to get involved with other pages.  Become a fan of those pages where your potential client would also be a fan.  Watch their conversations – answer questions that would pertain to your industry.  Post great tips on their page and invite them to join your page.
Another great way to get them to your page is to run a Facebook ad – it is not expensive and you can target exactly who you are looking for.  Maybe you are looking for doctors solely in the San Diego market.  You can be that specific.  The ad would invite them to become a fan of your page.
Remember – it is all about credibility, building your leading authority status and getting your name out there.  When someone thinks about your industry you want them to think about your name like you think of Coca-Cola or Pepsi when you want a beverage.
"There are 3 types of people in this world.  Those who make things happen, those who watch things happen and those who wonder what happened." Mary Kay Ash