Big Ticket Social Media Secrets: How to Fill Your Big Ticket Programs Using Social Media
Welcome to all my Be The Change friends.  I wanted to say Thank You for being in my breakout session with a few additional notes.
There is no doubt that social media has been a hot topic for a couple of years now. And no wonder, given its capacity to create meaningful connections with people in your customer or client profile.
For example, if Facebook were a country it would be home to 1 in 7 of the world population! Can you believe that? There are actually now over 1 Billion Facebook users!
Another example – YouTube – did you know that more than 72 hours of video are uploaded to YouTube every minute?! Over 4 Billion hours of video are viewed on YouTube each month – 5 million hours of video viewed by people – per hour!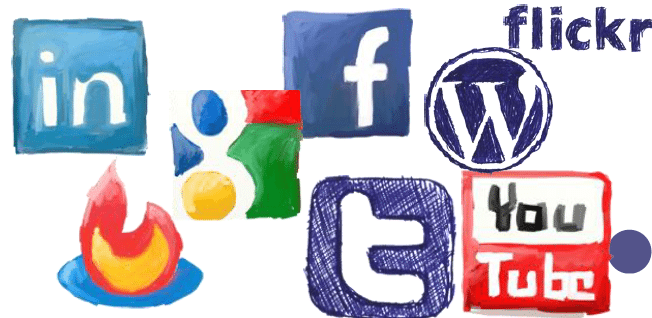 Did you know that YouTube is the second most used search engine after Google? Compelling reasons for YOU to be there.
Images are also very powerful in terms of content – over 200 Million of them are uploaded everyday – to just Facebook and Pinterest alone.
There are a lot of different social networks and for the busy entrepreneur with limited time and capacity, it can all seem overwhelming – do you need to be on Facebook? Twitter? LinkedIn? YouTube? Google Plus? Pinterest? Flickr? Some of them? ALL of them? How can I cope?
My intention is NOT to overwhelm you – but to inspire YOU to action! Remove your frustrations with social media.
Today I want to talk about the 3 Big Ticket Secrets to converting social media CONTACTS into paying CLIENTS!
Big Ticket Social Media Secret #1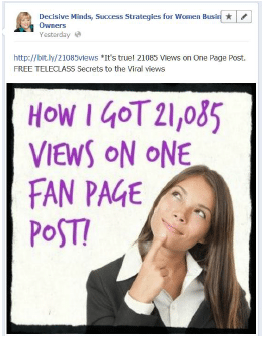 Images! Images! Images! According to Facebook, a post with an image gets 120% more engagement on Facebook than one without. That's a huge difference! Remember the old saying "A picture paints a thousand words"? Well it is true. It draws the viewer into your story. See how much more compelling the information is in image form than if it was just written in text?
I worked with Terry Zwierzynski, CEO of Solo-E to help her increase her followers and engagement on Facebook and increasing her use of images was part of the strategy we used to increase her page Likes by 366%.
Would you like to know where I am creating these images?  I use the free image editor at Pixlr.com which allows me to add text, boarders and so much more.  Of course you have to start with an image so I purchase images from Fotolia.com.  Quick note: Recently Facebook changed the rules on images.  To use an image to promote something you can not have more than 20% text on that image.
Big Ticket Social Media Secret #2
The second Big Ticket Secret is to use different tools to promote your products and offers.  These may include Facebook offers, contests, assessments, and even video series.  Another powerful tool is your blog so you could create 2 or 3 blog posts about the offer, or contest etc.  Again, the use of images is a really vital part of your content promotional strategy.
Big Ticket Social Media Secret #3
The third Big Ticket Secret is almost deceptively obvious – make sure you get your promotion out and seen by your community. Let's say for example you are promoting a teleseminar, you could…..
– Post your image to Facebook and Pinterest with the url to drive people to your opt-in page.
– You can create further engagement by creating and inviting your Facebook followers to an event specific to your promotion.
– Then you can post the blog posts you created which has a link to your opt-in page and is using the same image for continuity.  Blog post are easily shared through social media.  Remember all these pieces are directing your contacts to the same place – your opt-in page.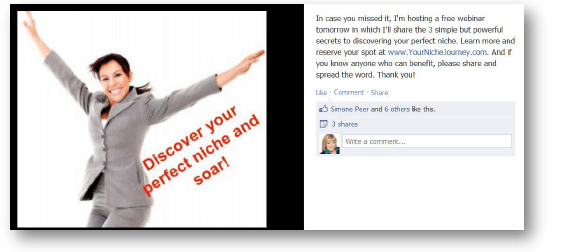 A great example of this strategy in action was with one of my coaching clients, Cindy Schulson. With my social media strategy and this image, she had over 600 people register for her teleseminar and sold 35 people into her own new coaching program.
So now it is your turn.  Develop your tools and your strategy and start sharing through social media.
Would YOU like to get clear about YOUR audience building strategy?
Would you like to feel confident about your launch strategy?
A great place for you to start is by completing the Decisive Minds Business Assessment.
2013 Word Calendar – click here to get a copy of the editable calendar that we use to schedule our strategy.
The PowerPoint I used from this presentation: