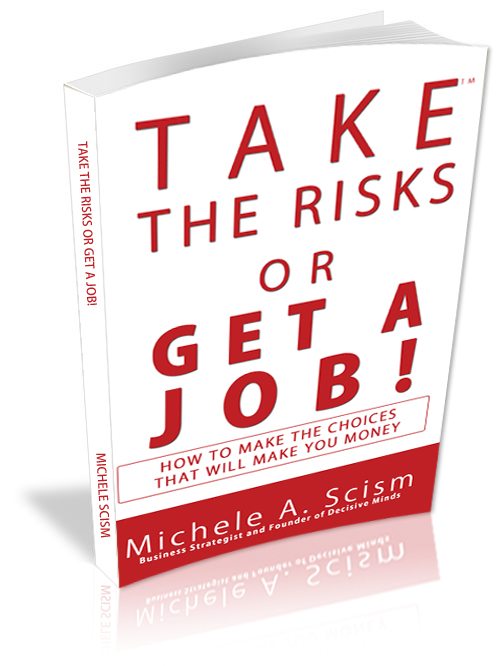 Ah… January.  A New Year, a new outlook, a clean slate.  Anything is possible.  This is the time of year for resolutions.
And, I have to tell you that your normal, garden-variety resolutions (i.e. Lose Weight, Make More Money) don't work.  According to Forbes 92% of people who set goals don't ever reach time.  My guess is that about half of the time, it is because the goals are bad affirmation statements rather than actual goals.  Vowing to lose weight is never going to make you thinner – vowing to track what you eat – just might.
It's all about the choices you make on a daily basis.  Making the right choice again and again – gets you there.  Big vague wishy (maybe even whiny)  goals never will (no matter how long you stare at your vision board or repeat the goals as you fall asleep).
But, I'm a business coach – not a weight loss coach – and I have a suggested resolution for you that I predict will 100% change your business if you commit.  (In my book, Take the Risks or Get a Job, I talk about the three things that hold people back – the symptom of all three is lack of action and commitment).  So, my suggested resolution is NOT easy (especially for those of you who are shy)… but it WILL change your business (and maybe your life – because a bit bravery in one area tends to spill over to the rest of your life).
But, before you continue reading … I want you to promise me that you will follow though on this resolution (without even knowing what it is).  It takes that kind of commitment to succeed.
If you are feeling brave and ready to commit, read on.
OK… my challenge for you is to spend 15 minutes a day making outgoing phone calls.  The point of the call is to make an appointment to have a longer conversation.   Before you ask… I want you to *call* people not e-mail them.   Here's what I want you to say:
"Hi this is (your name) …. I met you at (name of event).   We had said that we should connect to see how we can work together – I wanted to see if I could set up a time to do that with you."  That's it.  This is not a sales call.
If you can't get them on the phone THEN you can try e-mail – but I want you to call first – because it acually saves time and back and forth just to have the person look at their calendar.
But, I don't have any business cards collected?
I want you to go on a scavenger hunt and find every single business card you have.  Clean them off our desk, go deep diving into your purse and laptop bag, maybe you still have some in the suitcase from your last trip?
Now that you've done that, I want you to sort the cards in order of how useful those people might be to you and your business (i.e. do you have something you can offer them – vs. did you take their card to buy their service.   There is your initial call list.
If you really don't have a pile of cards (what have you been doing with yourself lately?) – start collecting.  Go to networking events.  If you must – start reaching out to people via Facebook – but only as a last resort.  You can do this!
So, in the comments, I want you to commit to me (and to yourself) that you will spend 15 minutes a day setting appointments for the next 90 days….  I promise your business will not be the same if you.
For more tips on making more money than you ever imagined possible – check out my book, Take the Risks or Get a Job, where I lay out a step by step what you *really* need to do to succeed in business.