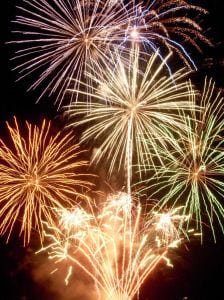 By Michele Scism
The Results Lady
CELEBRATION!!  Laissez les bon temps rouler – means let the good times roll!  It is the Cajun anthem of those of us who live in southern Louisiana.
I have to say that this month has flown by.  Well part of it cruised by since I spent 7 days in the Caribbean! 30 blog posts in 30 days!  I am proud of myself and very proud of all my friends who completed this challenge.
I started that first blog post on June 1st, 2010 with the following question: "What do you think would happen to your blog if you actually posted 1 blog post per day for 30 days straight?"
I am so excited about what it has done for me and my business:
Alexa Ranking – The amount of traffic to my site has been amazing this month.  I will give you specific numbers in a moment but a quick way to tell how your website is ranking against other sites in the world and/or in the US is to visit Alexa.com.  There are a few website ranking sites but I have always used this one.  So drumroll please:  On June 1st we ranked 501,000 in the US and today (30 days later) it ranks 225,476 (the lower the number the better).  My goal is to get it to 100,000 or less and this is a huge push in the right direction.
Contacts – I have meet and had conversations with a lot of the almost 300 participants.  Some truly amazing people who have retweeted my blog posts, commented on blog posts, joined my Facebook Fan Page and requested my FREE e-book.  I am so excited to say that I will be working with a lot of them in the near future.  I think I will do a blog post in the next couple of days to introduce you to them and to tell them thank you for being so supportive.
Site Traffic Statistics – The traffic statistics are something we should all be checking.  If you aren't sure how to get your numbers, check with your webmaster.  I will compare June with May since that was a pretty standard month for me.
Unique Visitors:  May – 585    June – 1142
Number of Visits:  May – 2499  June – 4707

Length of Visit over 5 minutes:  May – 8.8%  June – 12%
Links from Outside Pages(Unique): May – 126  June – 186
I know these numbers aren't huge but I feel really good since the site was only launched in March 2010.  The fact that almost all the numbers I look at have pretty much doubled was extremely exciting!
I know as a numbers person I can sometimes get carried away with the numbers so I will stop here.
I want to say Thank You to Dr. Jeanette Cates for sponsoring this blog challenge.  It was extremely helpful for me to have a goal set and a lot of people watching to see if I would finish.  I also want to say Thank You to each and every wonderful person I met through this challenge.  There are so many that I can't list them but you know who you are.  Thanks Again!!
So now what?  Keep on blogging of course – don't let the momentum slow!