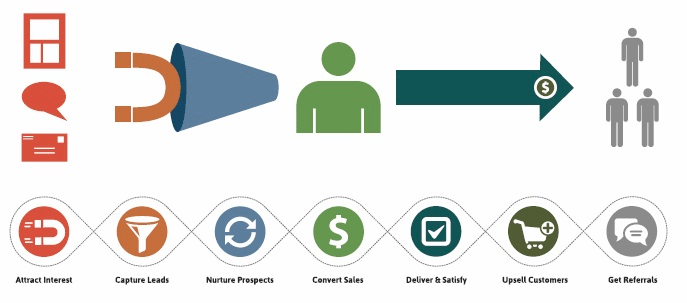 Yesterday, we talked about Step 1: Attracting Traffic and Step 2: Capturing Leads in the Coaching Customer Lifecycle Part 1.  Today, we're going to discuss the rest!
By capturing the lead, you've allowed yourself to make it past the first hurdle.  They now know who you are and have signed up to receive more information from you.  This is where the real work begins!
Step 3: Nurture Prospects
When you first signed up to get information from Decisive Minds, you probably got a series of educational e-mails.  That was part of the nurture process.  I think the biggest mistake people make in their marketing is not to continually keep in touch with customers.  Every message should not be a sales message – keep sending helpful information. You never know when a customer will be ready for you.  By establishing your credibility and expertise, you will make it that much more likely that when they are ready they will think of you.
Step 4: Convert Sales
If your sales cycle is working, most of the work for this step is done in the nurture sequence.  For Decisive Minds, this step includes doing strategy sessions with potential clients, preview webinars and sales pages.
Step 5: Deliver and Satisfy
This is the most important step of the entire sales cycle – and also the most neglected.  Often, I've found that the root cause of customer dissatisfaction is poor communication.  Make sure your customers know exactly how to use your product or service and that all of their questions are answered.  Setting the right expectations from Day 1 can go a long way in increasing customer satisfaction.  Bad reviews carry a lot of weight.  Do everything you can to keep your customers happy and coming back for more.
Step 6: Renew and Upsell  
If you aren't actively finding new ways to help your current customers, you are leaving money on the table.  This is the biggest leak in my client's businesses. Make sure you are always asking – "what else can I do for you?"
Step 7: Get Referrals  
You know that a business is successful when a big portion of new customers come from referrals from current customers.  The key is to make sure that you ask for referrals throughout the sales cycle.  If you do a good job for your customers, they will want to help you.
Where do you get the most stuck in your marketing?  Leave a comment on the blog, and I will make sure to cover your topic in the next few weeks.  And don't forget, I'm offering 16 social media conversion sessions over the next two weeks – click here to apply.