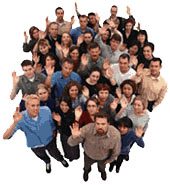 By Michele Scism
The Results Lady
Many of us have started teaching virtually through the use of tele-classes and webinars that are usually 1 to 2 hours long.  But have you investigated the possibility of using a virtual day of training?
Over the last couple of months I started using this format for some of my training and the response has been unbelievable.  So successful that I have decided to repeat this day every other month for the rest of the year.  I have designed the day so that I can teach how to use Facebook and LinkedIn to market your business – I call it Take Action Get Profits Virtual.
What is a Virtual Day of Training?
I have seen it done in a few different ways but the way I have it designed you spend the first hour of the training day on the phone/web.  During that hour I explain what we are going to do, let them know where the resources are and teach them the first strategy of the day.  Then we get off the phone/web and the students implement what they just learned.  Then we get back on the phone/web and we discuss what they just learned and I teach a new strategy.  We repeat this process 4 times throughout the day.  The reason I think it works so well is because the student has implemented and you learn more through implementation.
What do you need to have a virtual day of training?
1.  You need a sales page or at least a place for people to register and pay you for the training.  You can see a sample of mine here.
2.  You need a place to put all of your resources – I use a web page.  I call mine a hub and it is a basic page that I have listed all of the call in information (and replay links) for the 4 calls and then throughout the day I place different resources on the page as well.
3.  You need a conference line with at the minimum PowerPoint capabilities so that you can have a slide show during your conversations.  I have used Instant Teleseminar for the last year and it has worked wonderfully.
What could you teach using this format?
Just about anything.  Donna Kozik uses the format in her Write a Book in a Weekend program but of course it is a 2 day course instead of 1.  That is how I wrote my first book and I did complete it during that weekend.  I took a virtual training once with Sandra Martini where we worked on outlining our product development and budgets for the year.  I was amazed when I finished Sandra's day with everything I had accomplished.  So what could you teach using this format?


Would you like to know how to use Facebook and LinkedIn to get the word out about your products or services?  How about how to rank #1 for your keyword search out of 50,000 people like Catherine?  Join me for the next Take Action Get Profits Virtual training which is starting soon.  Oh and since you took the time to visit my blog I want to give you a $100 discount on the price of the day.  Simply enter the promo code:  decisive
Click here to learn more about the training.