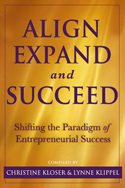 By Michele Scism
The Results Lady
Have you been feeling the excitement?  I bet you have heard about it.  What am I talking about?
The newest book from Christine Kloser & Lynne Kippel and 38 other contributing authors.  In this book you will find real life tales of remarkable courage and strength.  Micheal Port said that this book "will effect you for years to come."
Check out this video and book summary:
What if Your Business is the Key to Creating a New World?
Let's face it.  The world is experiencing an urgent wake up call because the paradigms of the past don't work in today's changing times.
"Business as usual" won't do the trick anymore.  It's time for something new!  And, that something new is YOU.  What if there were a new way to "BE" in your business that liberates you as a business owner, and helps you become a powerful and profitable force for positive change in our world?   You'd want to know!
You're in luck because this book is chock full of personal stories, tips, tools and strategies from entrepreneurs around the world who are pioneers in creating a new world through their business.  You'll discover how to:
Transform your greatest challenge into your biggest success
Thrive as a passionate and purposeful leader
Make peace with money as a conscious entrepreneur… so you can more easily attract in
Release the things that hold you back from your greatness
And, much more!
This book is designed to raise the vibration of the planet like never before. Get your copy of Align, Expand and Succeed and enjoy an abundance of gifts with your purchase. http://www.aesbook.com
Buy this book today and get over $6000 in FREE gifts.  What are you waiting for?