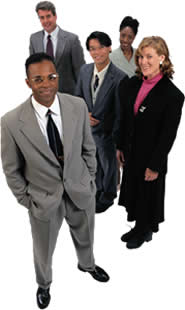 By Michele Scism
The Results Lady
If one accountability partner is good, shouldn't five or ten partners be even better?
Well, sometimes, but certainly not in every case! Joining an accountability group can jumpstart your business and get you to radical profits more quickly than you had ever anticipated – if you pick your group wisely.
Here's how to make sure you end up surrounding yourself with people who can help guide you to success:
Pros: Group accountability situations can be great for generating a huge variety of opinions from a number of different perspectives. You can experience more of a mastermind effect in a group situation. Also, the networking potential is enhanced exponentially when you add more contacts to the equation. And with a group set-up and multiple people to rely on, there should always be someone available for feedback – the chance of EVERYONE flaking on you is slim.
Cons: The flip side of many ideas is that you can be inundated with opinions with no clear way to prioritize or choose between them. Also, because several people are involved, you and your partners can feel less committed to each other's individual success, as you all share the responsibility. Also, you have the drawback of having more personalities involved and, therefore, a greater opportunity for conflict. Finally, it can be tougher to coordinated multiple people's schedules to find a single time to "meet." One other drawback: you can be inundated with requests to help other people and may lose time that you could be using to focus on your own business.
Suggestions: As with the other approaches to accountability partners, choose your group members carefully! If you are taking charge of the group creation, have each potential member fill out a short questionnaire to gauge their interest, skill and business level, and willingness to commit to each other. Also, decide if you want members to be in similar industries or niches, or if there should be no overlap to avoid competition. You'll also want to decide up front if new members will be voted in by the group or if there is one person in charge of deciding who gets added. Finally, set a minimum – and maximum – amount of time you will devote to the group, to ensure that no one is getting overburdened (and that no one is shirking their duties).
Having an accountability group can be one of the quickest ways to get your online business up and running. The combined firepower and experience of a group of committed partners can give you the confidence and support you need.