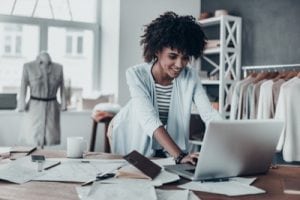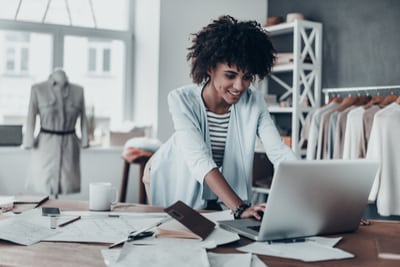 Does this sound familiar? You've set up your social media page and profile, you've followed a few people, and you've posted some. Maybe you've posted a lot. But not much is happening. Or maybe you've yet to see the point of social media marketing. If you don't create a social media marketing strategy, social media can be a lot like going to the grocery store without a list. You don't have any direction.
Many people skip the whole strategy process because it seems overwhelming. It doesn't have to be. Take a look at the following steps to create a….
SIMPLE Social Media Marketing Strategy for Your Small Business
.
1. What Do You Want to Achieve?
Decide what your goals and objectives are. Do you want to increase awareness, build your list, increase sales? Set a specific and measurable goal. Keep in mind that this goal can change over time, so don't stress about it too much. Right now, the most important thing to do is to set a goal for your efforts. Keep in mind that you may have different goals for different channels. That's okay. Simply identify the goal for each channel. If there's an overarching goal for all social media activities, define that.
2. Look at What You've Done Already
Assess your current social media efforts and results. What are you doing that is aligned with your newly established goals. What's working for you right now? What isn't? What are people responding to? Where are they engaging? When are they engaging?  Do this for every social media channel that you're on.
3. Make Sure Your Audience is Present
Make sure you're spending time and energy on social channels where your audience hangs out. You can visit each channel and find out their general statistics and demographics. This is essential for any successful social media marketing strategy. You want to make sure you're actually spending time where your audience is present.
4. Update and Align Your Social Media Marketing Strategy
Update any existing social accounts so that they're aligned with your goal. This may mean a different description, profile picture, or the look and feel of your page.
5. Create a Content Marketing Plan
Daily content is important for social media marketing results. Planning it out will help you not only get it done and published, but also help you get the results you want. It's one thing to be active on social media; it's quite another to design your content to achieve your social media goals.
Finally, consider getting help. Social media strategy, content plans, and marketing efforts are easier to manage when you aren't doing it all yourself. From consultants to marketing managers, a little help can go a long way toward achieving the results you want and deserve.
Click on the button below to download a free copy of my Social Media Scheduler.  In the scheduler, you will learn 5 ways to automate & systematize your social media posts so you can increase ROI and don't have to think about it anymore. You'll also learn how to use the Social Media Post Worksheet (included in the e-book). The ebook also includes the TOP 15 hashtags to use in social media posting.