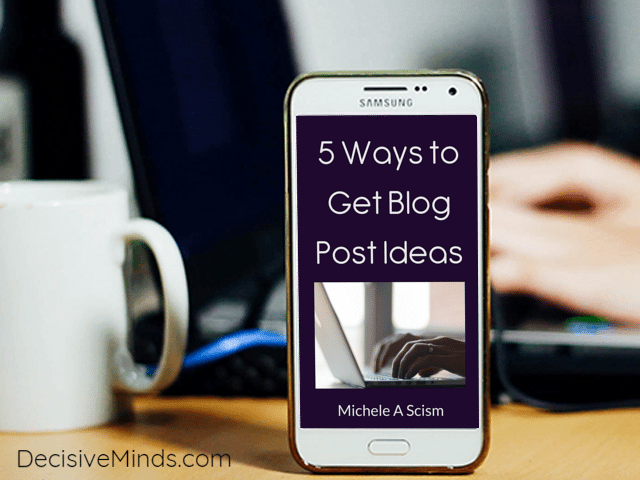 I recently asked a group of business women the following question: "What is stopping you from blogging?"  Several of them responded by saying that they were afraid that they couldn't come up with enough blog post ideas. What if they got started and didn't have enough to blog about?  Not enough content!
Actually, I should start with the fact that I felt the same way before I started blogging.  My first blog was on July 24, 2009 and I titled it "Scared" because, well,  I was.  I really had no idea what I was going to blog about, but the one thing I learned from the movie Julie & Julia (one of my favorite movies of all time) was that you just need to pick something and start to blog. LOL
So ask yourself this – Why do I want to blog?
To generate leading authority status for you or your business?

To drive traffic to your website?

To keep a log of your growing children? (Maybe I should start a blog about my grandbaby.)

To share recipes you love with the world?

Maybe you just have stuff in your head that you want the world to know?
Once you know the "why", the content will come.  You know the line "build it and they will come."  It doesn't just work for baseball fields.  It works for blog content as well.
The one thing I can tell you is that you have, within your immediate grasp, enough information in your brain to write your first several blog posts. You can worry about the rest later.
5 Ways to Get Blog Post Ideas
Blog Post Ideas – 1. Brain Dump
Sit down with a piece of paper and start to write one, two, or three word phrases that explain something you have done or know something about, just as they come to your mind.
Blog posts, pictures, what can I write, 10 minute blog, brownies, laundry, WordPress, marketing, trucking, assistant, and I could go on and on. (Brownies because they are cooking in the kitchen and smell so good.)
OK, you get the idea. Just randomly write down things that you know anything about. Then pick 5 of them that you would feel comfortable having a discussion about with a colleague-those are your blog post ideas!
Blog Post Ideas – 2. Ask a Question on Social Media
Asking questions on Twitter or Facebook can really give you some great ideas.  I once asked the members of my Decisive Minds Fan Page "What is the 1 thing you really need help with in your business?"  I got some really great answers which lead to 5 new article ideas.
Blog Post Ideas – 3. What Topics are Trending in Your Industry?
What are other experts in your field writing about? What topics are on the front of industry magazines? Are there particular subjects that are trending in your industry?  For example, right now in business, there is a lot of talk about blogs.  Yes, there could be many other people right now writing an article about what to write blogs about but none of those posts would be like this one.  The fact that I am writing it makes it unique and different from the others.
Blog Post Ideas – 4. Google Adwords Keyword Planner
Have you used the Google Adwords Keyword Planner to see what people are Googling about your topic? The Keyword Planner will give you hundreds of ideas for blog posts.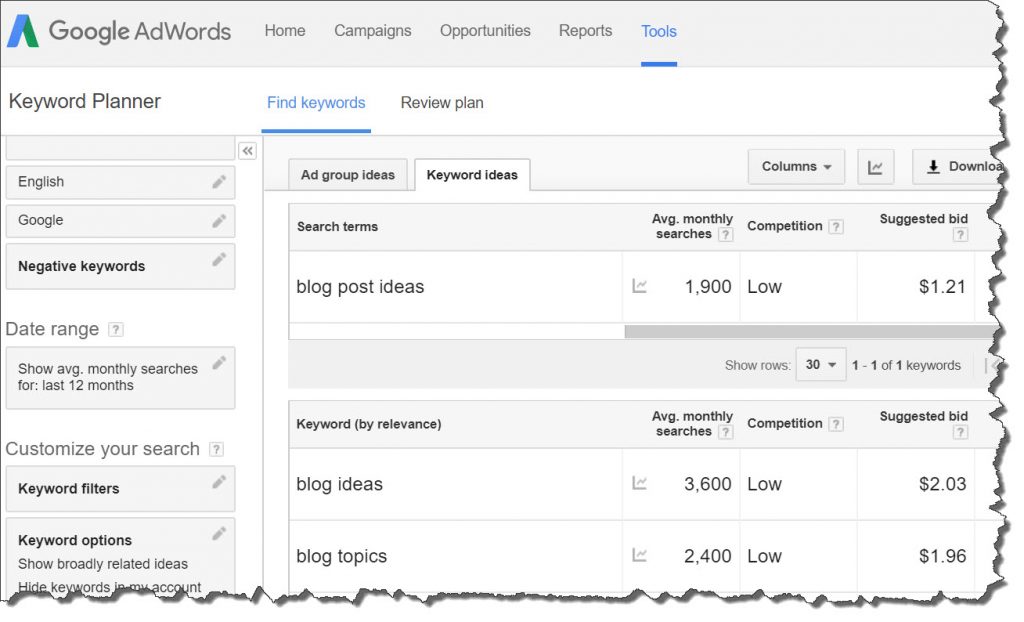 Blog Post Ideas – 5. Guest Posts
There are lots of people in your industry that would love to be guest bloggers on your site as long as your site fits with their topic.  If you look at my blog you will see lots of blogs from guest bloggers.
My friend and mentor Adam Urbanski has a saying "Anything worth doing is worth doing poorly to begin with!"  That means don't wait for perfection.  It rarely comes!  Just get started.  Write your first post about how scared you are, like I did.  You can even call it "Scared" if you want to – I don't mind.  I promise your post will be different than mine!  Just take action and move forward!  Then drop me a line to let me know you did it!

This post was originally posted June 2010. Updated January 2018!