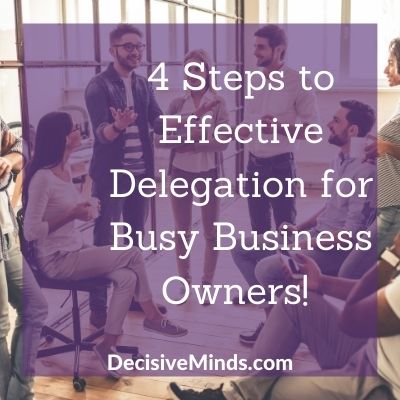 Ronald Regan said, "Surround yourself with the best people you can find, delegate authority, and don't interfere as long as the policy you've decided upon is being carried out." Easier said than done, right? As a business consultant, I have worked with hundreds of small business owners, and most of them have had a hard time delegating. They often ask me how what it takes for effective delegation.
After all, most small business owners start bootstrap companies and leverage their unique skills to grow. As they achieve success, many founders fall into the same trap, where they hold on to too many responsibilities and struggle to delegate tasks effectively. I think effective delegation really comes down to four things, so let's take a look.
4 Steps to Effective Delegation
Step 1: Follow My Lead
This is the "I trust you to follow my instructions" step. For most small business owners, this may be the hardest step. Why? Because you have to slow down long enough to create instructions for someone to follow. Let's say, for example, you hire your first salesperson. Up to this point, you have been the only salesperson, which we know means your business will plateau if you don't figure out how to delegate the sales process.
Check out this blog post: How to Work on Your Business, Instead of In It!
There are a couple of different ways you can create the instructions for your new salesperson.
1. Sit down and write out the process. Then work through the process with your new hire and modify it as you go through it.
2. Have them shadow you and take notes on everything you do. Be sure that they are writing up the process and giving it to you to review.
3. Record yourself talking through the process and have someone else type it up. Then work with your new hire to edit the process as you are working through it.
PLEASE NOTE: Effective delegation techniques say to never hand a process to a new hire and expect them to follow it and learn it. The best process is to have them shadow you for a while. During this time, your goal should be to explain why you are doing what you are doing, why you are saying what you say and why you are thinking that way. In my business, we call this "Michele Brain." I want my entire team to think with Michele Brain.
Step 2: Research and Report
This is the "I trust you to act like an owner" step. Listen, effective delegation involves letting go. You have to know when to let the employee go to the next step. In the example earlier of your new salesperson, this would be the point when you have them start to research potential new clients, create plans for how they will connect with them, etc.
You might say something like, "Please research some options for completing this task. Outline which options you considered, the pros and cons to each, and which option you would choose if you were the owner of the business." You are just sending them off to take action. You ask them to think through the process and come back to you with ideas before giving them the thumbs up.
Step 3: Do It and Report
This is the "I trust you to do what you think is right" step. Now you are going to push them out of the nest. I am not telling you that you will be sure that they know how to fly independently. You should be prepared for some missteps. At this step, they should still be checking in regularly to talk about why they choose to do things the way they are.
It's also important for you to recognize that there are many paths to the end goal. Remember the quote I opened this post with. "Don't interfere as long as the policy you have decided on is being carried out." If you gave your new salesperson a milestone to close their first new client within 60 days, does it really matter if they didn't do it exactly as you would?
Step 4: Do It
This is the "I trust you to take this off of my plate" step. If you haven't started the process of delegating a particular process, you may not even be able to believe this is doable. I am here to tell you it is. And I promise that someday down the road, you are going to look back on the days when you were the only one doing this process.
How to delegate tasks effectively is a skill set that anyone can learn. You have to be willing, and you have to want your business to grow.
Want to learn more about effective delegation?
Check out the Entrepreneurial Freedom Livestream.