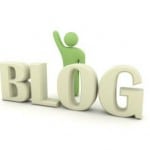 By Michele Scism,
The Results Lady
What do you think would happen to your blog if you actually posted 1 blog post per day for 30 days straight?
Well I know what I think will happen and in 31 days I will be able to tell you exactly what happens.  That's right I am participating in the 30-Day Blog Challenge that is being hosted by Dr. Jeanette Cates.  I am really excited because a challenge always brings the best out of me – I am one of those people that works best under pressure!
So what about you?

Do you have a blog but can't seem to find the time to blog?

Have you always wanted a blog but just don't know where to get started?

Maybe you are one of those people who thinks "Who in their right mind would listen to me?".
Check out this great video below from Seth Godin and Tom Peters on blogging.  I love how they look at blogging.  Seth Godin says that you should blog to "force yourself to become part of the conversation."  Tom Peters goes on to add that blogging has changed his life, his perspective and his intellectual out look.

If you have been thinking about blogging but just aren't sure how to get started, you can start blogging in the next 30 minutes.  I prefer to blog on my own website with my own URL now but when I started blogging I simply set up an account with Google Blogger, answered the questions and was off and running.
Here is my first blog post from July 24, 2009 which was on a free blogger account – Scared!  Yes that's right my first post was titled "Scared".  It is time for you to get started and this challenge is just the right reason for you to do it.
For those of you who have been dabbling at blogging but have not been able to really commit to the process, it is your time too.  Take the challenge!  It starts today, June 1, 2010, and there is still time for you to get started.  If you are just reading this post and it is already June 10th do yourself a favor and get started.  I think you can probably still register and for the first 10 days post 2 blog posts a day to catch up.
Why is the blog challenge important?
I see two immediate benefits of the challenge.  Driving traffic and links to my site as well as creating "TOMA" top of mind awareness.  I can't wait to see what will come of this challenge.
There are over 80 people already registered to participate and since a lot of those people will want to check out my progress that will help to build traffic.  Every day my blog posts will be sent out to Twitter and Facebook and that will create more link building opportunities for my site.  These automated steps will provide immediate benefit.
As for "TOMA", the more people see your name, see that you are providing great content and adding value to their life, the more likely they are to think of you when they have a question or need in your particular field!
I hope that you will take this challenge with me!  I look forward to hearing about all of your successes in 30 days!