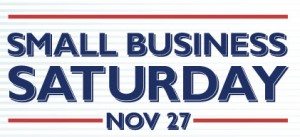 By Michele Scism
The Results Lady
Did you take the day today to participate in Small Business Saturday?  First there was Black Friday for retailers and then there came Cyber Monday for online sales but this year American Express partnered with a lot of other organizations to promote what they called Small Business Saturday.
It is really cool and if you missed it as a small business owner be sure to take notes for next year.  I just surfed the website for the event and found it to be really simple but exciting.
As a small business owner it reminded me that I can make a difference in this world.  Here are a few of the facts the site quoted:
Small businesses employ half of all private sector employees – SBA
Small businesses represent 99.7% of all employer firms – SBA
American Express partnered with entities like Facebook, E-Women Network (which is exciting because I will be the guest speaker for the Houston E-Women Network group on Friday 12/3), NAWBO, Women President's Commission and many more to promote this event.  The Facebook fan page they created has over 1.1 Million likes so far.
Then on top of all that American Express is putting their money where their mouth is by offering American Express cardholders a $25 statement credit for shopping today with a small business.  Plus Facebook gave $100 ad credits to help build online buzz.  Over 10,000 small businesses received the ad credits from Facebook according to the fan page.
If you did not get your $25 credit from American Express it is not too late.  Why not invest in your business today (11/27/10) and let American Express pay for part of it.
On December 8th I will be hosting a 1 day virtual event , Take Action Get Profits, during which I will show you how I used Facebook and other social networking sites to get loads of visibility for my new business as well as 99% of my new clients this year.  That's right – almost every one of my clients came from my online marketing efforts.
I have a simple to follow strategy and it is something you can easily do as well.  The best part about it – today I am giving you a 50% discount.  It is only $97.  (On 11/30 it goes back to $197.)  If you pay with your American Express that makes it only $72.  That is unheard of for a 1 day virtual event.
Thank you American Express and all of your partners for believing in the small business owner!