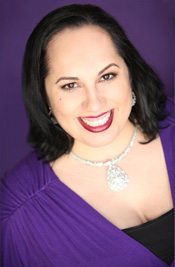 Today's Post is from PJ Van Hulle. PJ is an acclaimed international speaker who works with speakers, authors, and coaches to grow their e-mail lists so that they can attract more clients and sales, with less effort and stress.  She's the author of the Little Book of Prosperity, the co-author of Make Your Connections Count, and the host of the List-a-Palooza 90-Day List-Building Challenge.
The Secret to Perfect Bacon (and Growing Your E-mail List)

My friend Amethyst Mahoney challenged me to share my recipe to perfect bacon as part of an article on list-building and here it is!
I love bacon (if you're one of my vegetarian or vegan friends… don't judge me!), but I used to make it very rarely, partially because I don't think it's particularly healthy but mostly because cooking it was such a hassle.
Only a few strips at a time fit in one frying pan, little bits of grease could fly up and burn me, and it never seemed to cook evenly… parts would be burnt and others still too raw.  I had to flip and twist each piece to get the whole thing cooked.
I also love growing my e-mail list, but this was a "should" on my to-do list for about 6 years before I got serious about it.
Then I discovered the secret to perfect bacon (and growing your e-mail list):
Challenge Conventional Wisdom
Here are some questions to ask to challenge conventional wisdom:
Is there a better way to do this?
How can this be easy?
What's the highest and best use of my time?

Conventional wisdom tells us to cook bacon in a frying pan, but baking it in the oven works so much better!
You can cook 1-2 packs at a time, instead of just a few strips, and it cooks evenly without giving you grease burns or getting your stove top all messy.
Here's the recipe…
========================================
Baked Bacon:

Preheat oven to 400 degrees
Cover a baking sheet in aluminum foil (this make clean up super easy)
Arrange bacon slices side by side on baking sheet (don't overlap them)
Place baking sheet of bacon on the middle rack of the oven
Bake at 400 degrees for about 20 minutes
Check bacon for your desired level of crispiness and cook a little longer if necessary
Place cooked bacon on paper towels (I use tongs to pick up the bacon) and pat with paper towels to absorb extra grease
========================================
Here are just a few examples when it comes to growing your e-mail list…
Example #1
Conventional wisdom tells us to put up a "Brochure" type website with a bunch of navigation tabs like: Home, About, Blog, Store, Contact, etc.
There's nothing wrong with having a website like this… it works well for SEO, building credibility and allowing potential clients to check you out from a distance.  However, it's not the most effective way to build your e-mail list and to generate sales online (just like the frying pan is not the most effective way to cook bacon).
What's far more effective is to drive traffic to an Opt In Page.  Click here to see an example.
Not only is a website like this simpler, easier and less expensive to set up, it will also massively increase the number of visitors to your site that join your e-mail list.
Here's a great resource for creating inexpensive professional Opt In Pages.
Example #2
Conventional wisdom tells us to ask people to "Join Our Mailing List," but people are busy and already get more e-mail than they can keep up with.  That's why it's more effective to offer them a valuable gift (like a free report, training video, or eBook) in exchange for their contact information and let them know that they'll also be added to your list.
Example #3
Conventional wisdom tells us that free list-building tactics are better than paid advertising.  In some cases, that's completely true.  However, most free list-building tactics (like social media) take a significant investment of time to get results.
If you know what you're doing with paid advertising, you can get better results in a fraction of the time.  For example, about 1100 opt ins for List-a-Palooza last year came from Facebook Ads, which only took me a few hours to set up, track and manage.