"Smart Entrepreneurs know they have to put a focus on continuing education and motivation to build their business."
Free Webinar: Instant Access
How to Build a Business That Thrives With or Without You
Even when it feels like your customers only want to deal with YOU!
If you are like most business owners, your desire for FREEDOM is hard-wired into your psyche. You could get a job with a fancy title, a lucrative salary, and comprehensive benefits, but the desire to call your own plays has led you to the road less traveled.
However, starting a company may not be enough to facilitate the freedom you imagined. Just because you're the boss, that doesn't mean you are liberated from demanding customers or needy employees undermining your freedom.
For that level of independence, you need a strategy that helps you to create a business that can generate the kind of income you need to fund the lifestyle you aspire to have and give you the time to live it.
During this FREE webinar, Stevie Awarding Winning Business Consultant, International Speaker, and Best Selling Business Author, Michele Mere will share……
> The 3 types of Business Owners and how that is determining the direction of your business!
> The 1 kind of revenue that can triple the value of your business!
> How to recognize when you've fallen into "The Owner's Trap" and the strategies and mindset to pull yourself out!
The replay of the webinar will be sent to everyone who registers.
HOUSTON, TX: Invitation Only Mastermind
10XTank Mastermind Event
Upcoming Dates:  March 14, 2018 & April 18, 2018
Do you have a hard time answering the question "What do you do?"
This small group mastermind is designed to help you focus your messaging so that you will attract the attention of your perfect prospect. We do this by working as a group to improve each others messages. Then you get to practice this new message in front of the video cameras.
You will learn and practice to be authentic in your messaging and your on camera presence.
You will enjoy interactive networking, informative coaching and masterminding with other powerful entrepreneurs.
FREE WEBINAR: Get Instant Access
How I Made $100K Selling Information Products
Have you tried selling digital products online? How did it go?
I have spoken to so many people who tell me that they have tried several information products but they didn't sell. The fact is that we see so many people who are successfully selling online – what is their secret? They know a couple of things you don't. That is why I am doing this webinar; to show you how you can shift a few things that in your information product strategy and start to make some real money.
During this webinar you will learn:
How to get paid to create your product!
The #1 marketing strategy that will sell  more products!
How to use paid ads and ninja trick to get them for FREE!
FREE WEBINAR: Get Instant Access
5 Ways to 10X Your Website Traffic
It seems to be the big problem website owners face. What can you do to drive people to your website?
How does your site become the next Huffington Post or Mashable? The facts are that they didn't start out as the super successful sites you see them to be today. That is why I am doing this webinar; to show you how to drive more traffic to your site so that you can build your tribe and sell your programs and products.
During this webinar you will learn:
The #1 MISTAKE entrepreneurs make when trying to drive traffic to their site!
My sneaky strategy that got me invited to a celebrity's house (not to mention a ton of traffic)
Paid traffic! How to know when to use it, where to do it and how to make it profitable.
FREE WEBINAR: Get Instant Access
VIP Days Mastered:
How to Make a Months Income in 1 Day
Have you ever wondered how some coaches and consultants can get paid $5,000, $10,000 or even $20,000 for a single day with a client? Do you have to work with a client for 6 months or a year to make that same amount of money?
The fact is that you are passing up opportunities to work with clients who really want to get a complete plan for their transformation quickly.  That is why I am doing this webinar; to show you how to design and sell VIP days as part of your service options.
During this webinar you will learn:
The exact structure of a perfect VIP day (how to avoid overwhelming your clients)
How to host travel free VIP days your clients will love and rave about
How to attract the perfect client to your VIP Days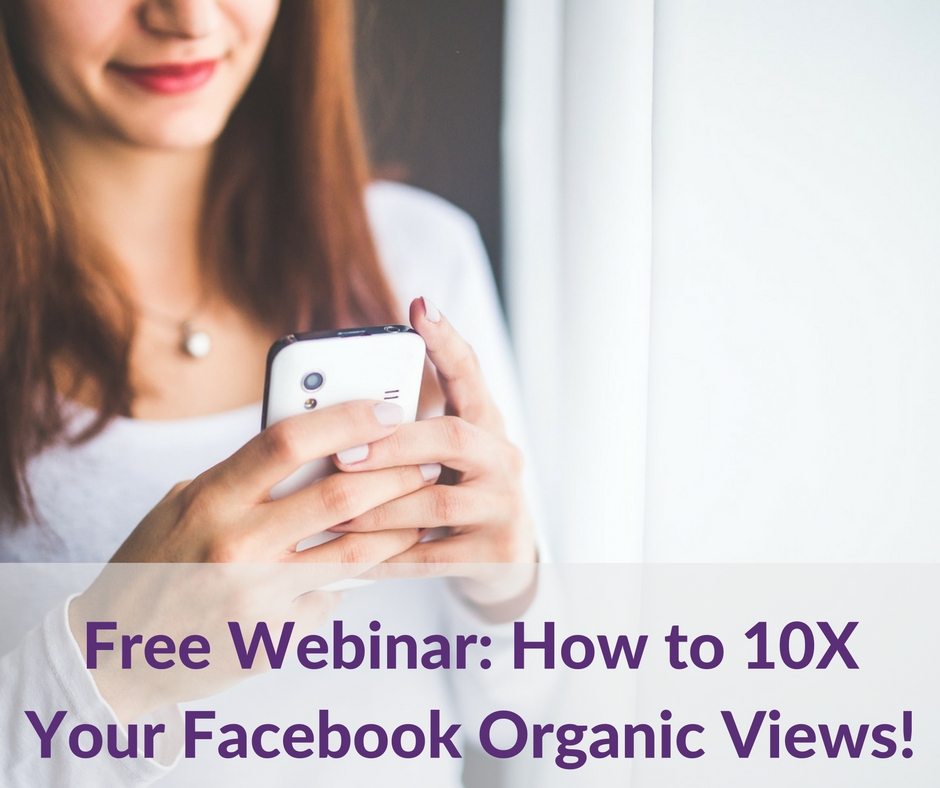 FREE WEBINAR: Get Instant Access
How to 10X Your Facebook Organic Views
According to Facebook there are over 1.3 Billion daily users on the site. Yet, your posts aren't being seen and it still feels like nobody's paying attention. And even worse you attempt to run an ad and then can't decipher the analytics to tell how it worked.
If you are ready to finally figure out this Facebook thing without spending tons of money this webinar is for you.
During this webinar you will learn:
The #1 mistake made by most entrepreneurs on Facebook – this one costs you $$$
2 simple tweaks that will guarantee you 10X's the views on your posts for FREE
How to create fast shareable content that others won't be able to resist