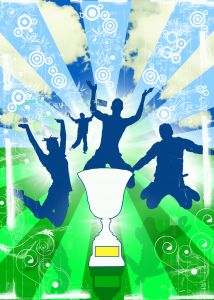 By Michele A Scism
The Results Lady
Do you have raving fans that are always saying wonderful things about you?
Are you using those testimonials to get more clients?
If not you need to keep reading.
Recently I was privileged to be able to speak on stage at Adam Urbanski's "Millionaire Coach Secrets" seminar.  Adam asked me to talk about the success I have been having using online marketing to build my business – very quickly I might add!  :))
One of the subjects I spoke on was what I call my "10 Minute Blog Post System".  After my talk Katherin Scott, America's Premier Date2Mate Coach, came up to me and said she would love to give me a testimonial because I had just changed her mind about blogging and really made it easy and understandable.
As a good marketer I always keep my Flip Camera with me so I just pulled that bad boy out and recorded a great testimonial from Katherin which you can see below.

It was a great day – as it turned out I got fabulous video testimonials from Adam, Nancy Marmolejo of VivaVisibility.com and Therese Kienast of RadicalLeadership.com and some truly wonderful written testimonials as well.
So now what do I do?

Well I could use them in a blog post – Oh I guess I just did that.

I definitely will upload them to my YouTube Channel which I would love for you all to follow.

I could post them on social media.  Since I have Facebook, LinkedIn and Twitter linked to YouTube it automatically went out to each of them as soon as I uploaded it.

I could use them on a sales page for a product or service that I am offering.  In September I will be hosting a Virtual Summit on how to get more clients called "The Ultimate Client Attraction Summit" and you can be expecting to see several of these testimonials used in conjunction.

I like to use written testimonials as the first page in power point presentations.  You know the page that is just sitting there while people are waiting for the event to start.
Ok that is a few ways that I use them.  Now it is your turn – what additional ideas can you come up with?