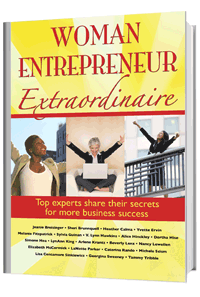 Your success comes as the result of more than talent, commitment and hard work. Your success will also be determined by how well you manage all aspects of your business. When you are an entrepreneur, you are responsible for everything—marketing, product development, customer service, sales and networking. Your success as an entrepreneur depends on how productively and effectively you run your business and how well you communicate and cultivate customer relationships and strategic alliances.
We know you want to be the absolute best entrepreneur you can be. With Woman Entrepreneur Extraordinaire, you will quickly learn how successful women entrepreneurs get the very best results. Top experts have joined to give women the most powerful information and strategies available.
Twenty-one top women entrepreneurs from a variety of disciplines and industries have joined together to give you the most effective strategies they know and use to help you guild a successful business and handle almost any situation with courage and strength. Small shifts can transform your self-confidence, strengthen your skills and contribute to a more productive, successful business.
My chapter is "Information Products Equal Accelerated Cash Flow: How to Easily Create Products to Add Visibility, Credibility and Profitability".  For entrepreneurs, whether you are a service provider or own a retail business, it is important to create a consistent and steady flow of new prospects, clients and cash to maintain your business and your sanity.  Information products are a quick and easy way to attract new prospects, become known as a leading authority in your industry and differentiate yourself from your competitors.
Order now – just $24
(Bonus:  FREE shipping)

*****************************************************************************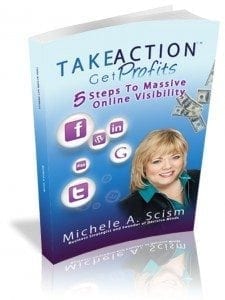 In "Take Action Get Profits – 5 Steps to Massive Online Visibility" Michele shares the 5 steps that she took her first year in business to gain massive visibility for herself and her business.
Would you like to have your products and services endorsed by the big players in your industry?  Do you want to know how to build the relationships through social media that could get you interviewed on radio shows and tele-summits?  How about how to get your Facebook Fan Page in front of over 10,000 potential clients in one update?
Are you guilty of the #1 mistake that most website owners make?  Do your social marketing strategies have potential clients calling you?  The fact is that social media is not about the media – it is about being SOCIAL! It's about building community and having powerful conversations with that community.  Are you ready for a step-by-step proven social media and online marketing strategy?
Get your autographed copy of this book today! 
Order now – just $15
(Bonus:  FREE shipping)

***************************************************************************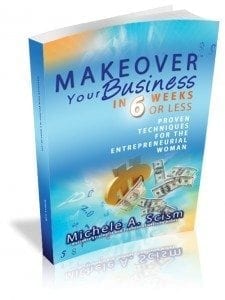 In "Makeover Your Business in 6 Weeks or Less" Michele explains in plain English how to know your client, attract more clients and keep those clients.
As you know, new leads are the life blood of any business yet 90% of businesses fail to generate enough leads and turn those leads into customers because of 3 big mistakes: lack of a clearly defined target market, no lead generation system and lack of a precise follow up plan. This book shows you how to avoid these mistakes.
Michele has made it her mission to share her business knowledge with 1000 women business owners this year in an effort to eliminate small business failure.
Order now – just $12.95
(Bonus:  FREE shipping)
Click here to get your Amazon Kindle version today!
******************************************************************

How I Grew My Facebook Fan Page From 1 to 1026 Fans in 30 Days!
Facebook currently has over 500 million users world-wide.  It is a safe bet to think that your ideal clients are using Facebook not only to connect with friends and family but to also research the products and services they need.  The fastest way to get massive visibility for your business online is with a Fan Page.
Would you like to know what I did to grow my fan page so quickly?  As a matter of fact I have continued to use these steps to gain rapid and massive visibility for my fan page.
In this immediately downloadable audio and e-book you will:

Learn how to add 1000+ fans to your Fan Page in the next 30 days!
Discover that there is a simple plan you can put into action to get those new fans to be engaged with you and your business.
Find out how to get the big players in your industry to notice and acknowledge you and why that is important.
Discover that you can easily turn your fan page into the lead generation machine that it should be.
Get started adding fans to your fan page today for only $27.
Click Here to Get Instant Access to the Downloads
************************************************************************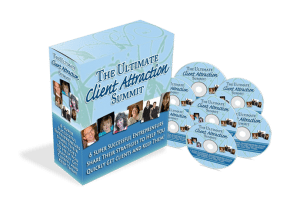 The Ultimate Client Attraction Summit Series
Whether you are a new entrepreneur searching for your first paying customer or a seasoned pro trying to grow your business,  attracting ideal clients is tougher than ever.  Many entrepreneurs struggle unnecessarily (wasting valuable money and time) by using the wrong strategies to fill their businesses.
Why is it that some entrepreneurs seem to effortlessly attract clients while others struggle?  That was the question I was trying to answer when I set out to interview successful entrepreneurs.  I wanted to know how they were continuing to convert prospects into new clients in these tough times.
I spoke with 6 amazing entrepreneurs who were willing to share their secrets and tips to success.  In this immediately downloadable set you will receive audios and transcripts for all 6 interviews plus when I was interviewed by Kathy Santini.  You will hear from Adam Urbanski, Nancy Marmolejo, Sandy Martini, Shahar and Nash Boyayan, Jo Luke and Eric Gruber on every topic from list building to article marketing to building $100,000 coaching programs.
PLUS you get my "How I Grew My Facebook Fan Page From 1 to 1026 Fans in 30 Days" and several other bonuses – All of this for only $67.
Click Here to get Instant Access to these Downloads
*
***************************************************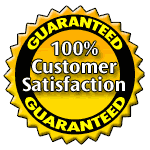 All of our products come with our 100% money back satisfaction guarantee! Here is how confident I am you'll be happy – You get our 90-Day 100% Money Back Guarantee! Simply implement the system in your business and if you aren't 100% satisfied in your results we will refund your money. No questions asked!